An incident-free workplace is vital to every personnel working in the industry that possesses the risk of an accident. Companies today have a commitment towards their workers to provide a safe working environment, ensure their health and safety and prevent workplace injuries. Employee safety is paramount for employers across the globe, which can be achieved by making employees accustomed to the hazards they might face when on duty, through employee safety training videos. Before getting into doing any potentially hazardous work, it is important for workers to receive suitable safety training from their employer, which adhere to the OSHA compliance.
There are a number of accidents that can happen in the workplace that everyone associated with the company needs to be aware of. Some of the most common types of accidents at the workplace include the following:|

– Trip or Fall – One need not be in a hazardous circumstance to slip or fall on the workplace. Something as little as a water spill on the floor, can cause a worker to trip and fall and get injured. The incident can lead to safety hazard and in turn become a serious injury and cost the company insurance claim.

– Machine Injury – Machine injury is the most common accident in the workplace. A worker can either be "Struck by Object" or "Caught-in/between"

– Electrocutions – As per reports, only in the 2018, electrocutions caused 86 (8.5%) deaths in the construction industry. If not trained properly when dealing with electricity, a worker can also loose his/her life.

– Fire – Fire is the second most common and damaging workplace accident, that can not just injure one person, but can also be destructive and can cause damage to the whole workplace and many others. Fire training videos can ensure that any such tragedy can be avoided.

The ways of dealing on the above situations is provided in the employee safety training videos that are shown to workers before they imitate their work on site. From a small cut to huge mishap, these videos provide information on how to face the situation and deal with it with utmost smartness and promptness. Whether it is you who is injured or the other person, it contains ways in which one can act at that particular point of time.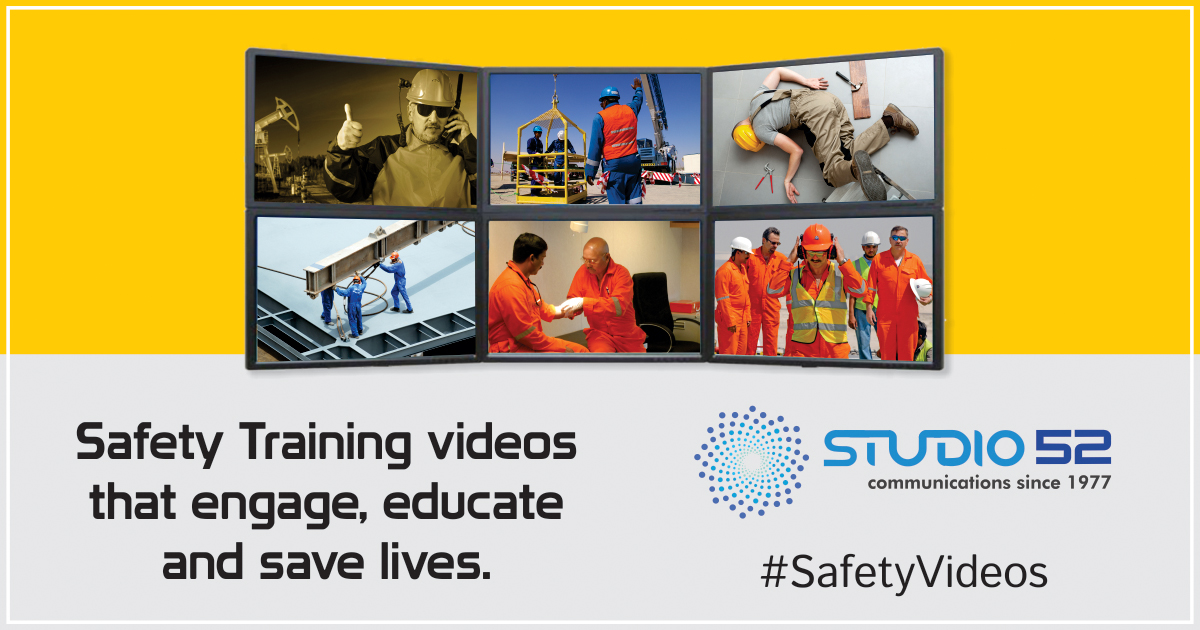 OSHA refers to Occupational Safety and Health Administration and employers across the world are required to provide appropriate training to workers who face hazards while on duty. It doesn't matter which industry the worker works for, if there is a possible danger to their life or there is a risk of getting injured involved while on job; companies have to make new joinees familiar with the safe practices at work. This is done by employee safety training programs that follow the OSHO standards. Prevention of workplace injuries can be achieved through these videos.

According to the Occupational Safety and Health Act (OSHA) of 1970, companies are accountable for giving a safe and healthful workplace to their employees. No worker should be injured, become ill, or even lose life on the work place. The goal of OSHA compliance is to make sure that the safety of workers is looked after at all times. Its mission is to prevent workplace injuries, illnesses and deaths by establishing and enforcing standards and at the same time give training, outreach, instruction and aid when it comes to health and safety of workers. A lot of OSHA standards, have in the past, avoided a number of workplace injuries. These standards include employee safety and health training necessities to warrant that employee gain the necessary expertise and knowledge to safely perform their work on duty.
Employee safety induction videos are an important part of every employer's safety and health program for shielding workers from any kind of workplace injuries. These videos follow OSHA compliance. It is a proven fact that people who are new on the job are more prone to injuries and illnesses, than that with more experience. OSHA employee safety training videos, are a mandate for each new joinee to see and get accustomed to it.

The training videos are different for every industry. OSHA compliance videos are categorized into five categories – General Industry, Maritime, Construction, Agriculture, and Federal Employee Programs. The videos clearly state that companies should provide workers with actual information and training on dangerous equipment and chemicals in their work place right at the time of their preliminary assignment. Also every time a new equipment or chemical is introduced in the work area, the employees should be thoroughly trained about the risks and potential health hazards of it, before they start its use. The workplace should contain safety data sheets for regular updation and employees should be regularly checked on their knowledge of using a particular instrument safely. It is always a good idea to keep a proper sheet of every safety and health training that is undergone at the company. Whenever an accident investigator comes for a check, these safety data sheets can come in handy and help them find the answer to "Did the workers get appropriate training to do the job?"

To prevent workplace injuries and ensure employee safety, employee safety training videos that follow OSHA compliance comes in many languages for companies to choose form and cater to people from different backgrounds. Once the employee has got familiarized with the safety training requirements, print and online material can be used by the companies to make them remind about these requirements from time to time. This material can come in the form of brochures and booklets, fact sheets, online pages, posters, quickcards that can be stuck at various places in the job area.

The employee safety training videos guarantee that job does not become accident and bitter experience for everyone involved with the company. Safe jobs are existing because businesses make a mindful decision and make the safety of their workers a priority in the workplace. However, it is the workers too who collectively share the responsibility and are individually accountable for actively using hazardous tools or chemicals. Together everyone can make sure that safety is been taken care of.


Employee safety is the first and foremost thing that companies focus on. Businesses today have people especially assigned for providing guidance on workplace safety to workers. Special videos keeping in mind the OSHA compliance are curated or custom made pertaining to potential hazards of the specific workplace. These videos follow set protocols and in turn reduce the number of injuries. It is after all the company's reputation and name that is at risk. With the increasing cost of employee compensation insurance, companies are bound to keep everyone associated with them, happy and safe. Even a little mishap at the workplace can not only cost the company huge amount of money, but also its reputation in the market and eventually its operations. Safety measured to reduce workplace injuries has now become an important part of running any kind of business.

Even though, these employee safety training videos comprise of all aspects that the workers need to take care of while working at a unit, employees can also find out any missing safety procedures and give appropriate recommendations for any alterations. This can not only help the present workers, but also the upcoming employees of the company, as well as the industry as a whole. Employee safety training videos are a safe way for employees to do their jobs with thorough knowledge. It also ensures that better morale, lower insurance premiums and reasonably less number of injuries at the workplace.

Whatever size a company is; whether it's a multinational or an SME (small-medium enterprise), safety at the workplace is an important topic for all businesses. Prevention is always more fruitful and better than later having to deal with the outcome of the accident. The common sense and ability to understand what is being thought is imperative when looking for workers to work for you. Even is the company has given all the necessary information, it is the worker's responsibility to adhere to his information and make use of it when working on job.

By following appropriate procedures and at the same time, recognizing possible risks, one can prevent workplace injuries to a large extent and make it safer for everyone working. A better understanding of employee safety and OSHA compliance standards through employee safety training video will need frequent risk valuation, safety audits, active intensive monitoring, at the same time consulting and training.
With the help of the health and safety training videos, a company not only makes sure that the health and wellbeing of their employees is taken care of and the functioning of your organization is smooth, but you will also help in saving a lot of money and make a reputation for itself in the industry and amongst people who it is looking to hire in the future.