First impressions matter. They can make or break your brand's customer experience. And today, most customers look to self-service first, making it a critical touchpoint in the customer journey. Self-service can no longer be just "good enough". The experience must make a powerful impact to meet and exceed customer expectations. 
This is where Interactive Voice Response (IVR) comes into play. In many companies, often the first touchpoint for customer support is an IVR. It's responsible for identifying, segmenting, and routing callers to the most appropriate resource. To start customers off on the right foot — and guide them on a satisfying, seamless journey — you need to understand the basics of IVR technology and implement strategies to maximize its capabilities.
What is Interactive Voice Response (IVR)?
IVR, or Interactive Voice Response, is the technology that allows humans to interact with computers. It is generally done through the use of voice and DTMF tones input via keypad.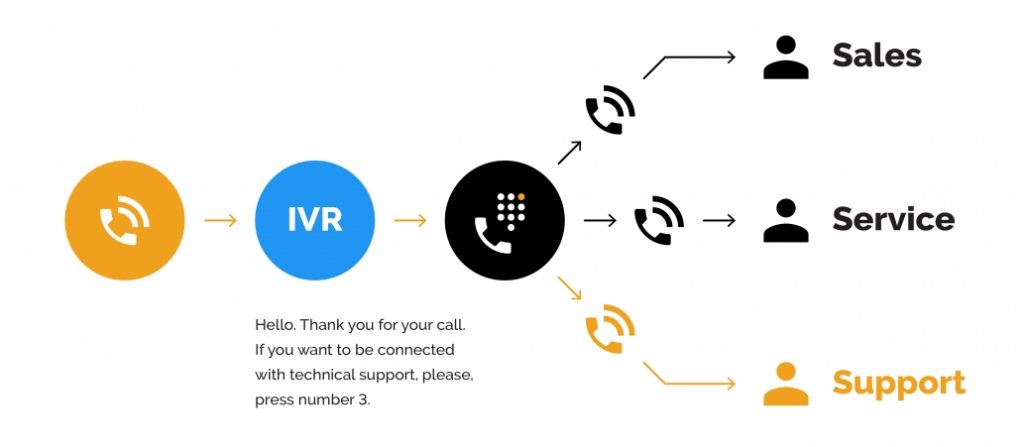 If the above technical definition of IVR confused you, check the explanation below to understand what is IVR and how it functions.
IVR Recording – Make Those 30 Seconds Count With a far more Engaging IVR Message.
Interactive voice response or IVR is an automated phone system feature that interacts with callers and gathers information by giving them choices via a menu. It then performs actions based on the answers of the caller through the telephone keypad or their voice response.
The choices of the caller decide the actions of the IVR. It can either provide information as a next step or, if the issue is more complex, route callers to a human agent who can answer their queries better.
At least once in your life you must have called a helpline or a company phone number and had been answered by an automated greeting, which proceeded to interact with you via some pre-recorded message, then you know what an IVR is.
Who uses an IVR?
Traditionally, IVR was used only in a call center. But, today things have changed. Companies are realizing the huge potential it has in terms of informing the customers about new product launches, special offers, and more to drive sales. So, the reality is that companies from virtually every industry can benefit from Interactive Voice Response. For example, 
Real estate

Banking services

Airlines

Hotel industry

Travel industry

Healthcare services

Retail

eCommerce

and so many more.
Now look at some of the typical use cases of IVR in any industry:
Account identification

Transactional information

Product assistance

Sales call routing

Appointment confirmations

FAQs

Grievance redressal

Offer Inquiries

Special Requests/Add ons after booking
Also Read- High-quality professional voiceover services and emerging Talent
What are the Features of an IVR?
Whether you are a large call center or a small business, an IVR system helps give your customers a superior experience in many ways. Here are some of the most important functions of IVR.
Collect Customer Information- To route the call to the right agent, the IVR first collects information about the caller's needs.
This could be the particular product or service they need help with and the type of support they need.
Route Calls to Agents- Once the IVR collects the caller info, it can route them to the agent or department most qualified to meet their needs. Thus reducing customer wait times and ensuring they're routed to the right agent without error.
Answer Simple Queries- Not all customer issues or needs require human intervention. Basic things like account information, common details about your business, frequently asked questions, and more can be answered through pre-recorded responses.
Automate Customer Support- An IVR lets customers solve certain issues without speaking to a customer service agent. You can pre-record responses to FAQs and solutions to other common problems and the caller can navigate to a solution.
Conduct Surveys- An IVR can help you collect feedback in real-time with simple surveys at the end of their interaction.
Implement Marketing Promotions- When inbound calls come in, you can introduce special offers or promote new products or services while the caller is waiting to be routed. It can also be integrated into marketing campaigns to enter contests, redeem an offer, or take a survey.
Understanding the IVR Flow: How a Call Gets Answered
IVRs work just like any phone call. The only difference is that it's automated and allows for self-service options. Here's what a typical IVR flow looks like:
A caller calls your customer service number

The IVR welcomes the customer with an automated message.

After greeting the caller, the IVR provides him/her with a series of menu options. For example, Please press 1 for English, Appuyez sur 2 pour le français and so on.

The caller then chooses from these options to get connected to either another pre-recorded message or to a customer service agent.

If there's a queue, the customer is put on hold briefly. This is where you can make use of on-hold messages and music.

When the line is free the customer is connected to the correct agent.
Benefits of IVR
Let's go over some of the benefits this product could have on your business.
Quicker Response Times- 90% of customers consider an immediate response important or very important when looking for customer support. An IVR system can speed up the support process with self-service menus. You can also use pre-recorded IVR messages for simple questions to reduce response times.
More Accurate Routing- IVRs prompt customers to specify their needs by choosing options from a menu using their keypad or voice. This helps accurately route them to the department best equipped to answer their questions. For simple queries, the IVR can direct them to pre-recorded responses.
Lower Resolution Times- An IVR significantly increases the chances of fast resolution because callers are directed to the most appropriate agent or department, cutting down the need to transfer to another rep. For queries that don't need human intervention, pre-recorded responses, and automation exponentially speed up the resolution.
Higher Customer Satisfaction- A reliable IVR ensures that customers are always directed to the right department or agent. This accuracy, along with the IVR's quick and automated responses, helps the customer feel well attended to. Because they're automated, IVRs always answer on the first ring and are available 24×7, even during holidays and breaks. Together all this helps achieve higher customer satisfaction.
Lower Operational Costs- Employing IVR reduces costs to a great extent. IVRs can replace a receptionist or a customer service agent who answers calls and directs calls to other agents.  When an efficient IVR system is in place customers will make fewer calls, leading agents to spend less time on the expensive voice channel. They are also very affordable, will increase efficiency, and will reduce operational costs, so the ROI is huge.
Improved Customer Service Handling- IVR also significantly increases first contact resolution. Callers are always directed to the agent who is most capable of solving their problems or the most appropriate department to do the same. All of this results in a significant increase in company efficiency.
24×7 Availability- Customers can make use of the IVR systems at any time of the day as it can perform its task 24 hours a day, 7 days a week if you want it to. While office hours, holidays, and breaks dictate and limit an employee's availability, IVR systems are always at a customer's disposal.
Greater Personalization- IVR systems allow for tremendous personalization that helps to create a better relationship with customers. Each IVR system can be programmed with personalized greetings for known callers based on their caller ID information. 
In addition to programming caller information, IVR systems are fitted with a number of language options. Language options can be programmed for specific callers as well, which may help existing and/or potential customers feel more comfortable.
Improved Company Image- IVRs are being used by startups and smaller companies to make their companies look bigger than they actually are. An IVR is easy to use and reliable, customers will never be routed to the wrong department or to an agent who cannot solve their problems. With an IVR your customers will be impressed with your company's professionalism.
Common Issues with IVR
IVR is a useful tool but should be handled with utmost care so that it serves best to the client's responses and queries. Below you would find some common issues that we have observed with many IVR systems.
Complicated Call Flow- 63% of customers agreed that IVR ruins the overall customer experience because they are forced to listen to irrelevant options. Your customers are not really calling to interact with your IVR endlessly. It's not a good practice to make the menu overcomplicated, with plenty of choices and confusing categories. All options should be clear, short, and straightforward so that the caller can easily and quickly make the best choice for them.
Lack of Agents- You would not wish to lose your customers just because of the fact that they are not able to get a chance to interact personally with any of your customer care executives. Sometimes, there are customers who are not very satisfied with the automated process. They may not be able to trust these systems all the time. In such situations, it is always helpful to have a customer care executive easily available for their help.
Long Hold Times- It can be frustrating for the callers to interact with a menu for a while, only to be asked to wait even more. If you're really struggling with the number of calls at a given time – give your customers a chance to ask for a callback. Many of them will prefer that over waiting for too long.
Too Much Information- Even though your callers need some details from you – start introducing them gradually. Wait for a caller to ask for more information, instead of offering it all upfront and creating confusion in the process.
Low-quality of Voice Prompts- In some cases, pre-recorded or generated messages are just hard to understand. It's either because the person who recorded those wasn't a professional, or the cheap text-to-speech software was used. In both cases, the quality of such voice prompts will be low and annoying.
What to Do for A Positive Calling Experience?
Want to know the key to improving your customer experience through IVR, let's tell you how!
"60% of callers put on-hold hang up within 40 seconds and callers put on hold with messages and music will stay about 3 minutes longer."
"Over 85% of callers prefer on-hold messages over silence." (Cellular Marketing Magazine)
"60% of customers feel that long holds and wait times are the most frustrating parts of a service experience." (HubSpot)
"55% of communication is lost over the phone (body language), leaving us with 38% through tone of voice and just 7% through words."
"Without music or messages, 90% of those on hold will hang up and 34% won't call back."
"16-20% of callers made a purchasing decision based on information they heard while on hold."
As you can see from these statistics, giving the wrong message in the wrong tone could actually damage your sales and your reputation. On the other hand, if you deliver the right information in the right voice, you may actually improve sales. Many companies spend time and money on their visual branding but neglect their telephone audio. Your sonic branding is as important as your visual branding. But, how do you integrate that into your IVR system for a positive calling experience?
When you have to put a customer on hold, you're playing with fire. But, no matter how hard you try, putting customers on hold is unavoidable. You need to make use of that time to serve them better.
Telephone on-hold messages (THM) and on-hold music add a powerful extra dimension to your company and engage your callers from the outset. On Hold Message helps to upsell and promote your products and services which further aid you to win business and keep existing customers well-informed. While melodic on-hold music would calm your customers, making them more rational and open to solutions provided by your agents.
How Can Studio52 Help Create A Positive Calling Experience?
The first impression customers make of your business determines to a large extent if you would retain them. Calling a company only to be answered by a mediocre, robotic recording would leave customers distrusting your business's professionalism and competency.
This is where we come in. We help you with not just creating a good first impression but also retain your customers. Here's how we do it!
Branding- No, we don't use the same run-of-the-mill on-hold message or music for all the companies. We give your brand a unique personality by ensuring – you have the right voice, music, style, and message to reflect your business perfectly. You can choose from some of the best voiceovers in the industry and a range of music styles to suit your brand's personality.
Scripting- The script is a crucial element for any audio message or recording. Our scriptwriters have years of experience in writing for audio, especially on-hold and IVR systems. We will help you create a message that's fresh, likable, and something your customers won't mind listening to.
Recording- Once we have the script ready and your voice and music have been chosen, we'll record your on-hold message with the right voiceover artist who can deliver the message in a perfect tone and voice for your business. With our modern, state-of-the-art recording studios you don't have to worry about the final result.
Production- With a touch of magic (what we mean is music!), special effects, and our expert audio engineers we create the final product for you. As a top-rated audio production company, we work on professional software creating SFX, surround sound, to maintain the crisp quality of the dialogue.
So, all you have to do is – Get Set. Grow!
To Wrap Up!
Customers want to feel special today. They want to feel like they're receiving tailor made services. If you want to boost your customer satisfaction and retention while keeping costs down, an IVR system is an essential marketing strategy. But it has to be intuitive, reliable, and impressive. Optimize your IVR with stellar on-hold messaging and music to create a positive experience that reflects your brand.
IVR services are useful for almost all industries like real estate, retail, education, and many more. If you want to take your business to the next level, consider IVR services by Studio52. We provide IVR production services in Dubai, the Middle East, and other parts of the world in 30+ languages. We promise to give your business a big boost by customizing IVR solutions to meet your industry and business needs. Contact IVR company in Dubai today for more information!