In a world where there is an app for everything, it was only a matter of time before voice-over services became popular. The voice-over industry has been on a continuous rise for the past few years. This technology has taken the internet by storm, with people using it for all sorts of reasons.  
Voice over services allow companies to communicate with their customers in a more personal way. By providing an engaging and interactive voice over service, businesses can connect with customers on a deeper level, fostering trust and loyalty. Not only that but several other features make voice-over services so valuable. This article reveals ten features of voice-over services that make everyone love them.
Features of Voice Over Services
1. Expert Execution
Unlike a non-professional who can speak well, an experienced voice artist will also bring a degree of expertise and professionalism when rendering a voice-over service. To accurately convey the intended message, these professionals have had to master the skill. So, regardless of the task at hand, you can rest assured that it will be superbly executed.
Being artists, they can deliver adaptability and diversity to peculiar situations, whether you need a professional voicemail recording, a lively voice for entertainment, or a calming voice. Many voice artists go the extra mile of cleaning up their audio or adding music to it.
Those who offer voice-over services understand the specific needs of various customers from a commercial standpoint and will ensure that your preferences and time are honored, even when you have serious work emergencies.
2. Excellent Diction
The most important quality of a professional voice artist is the ability to deliver lines with a clear voice and excellent diction. And that is one essential thing that you are sure to get from a professional voice-over service. Engaging the service of a voiceover artist guarantees that they will be able to give clear instructions to your customers while maintaining natural articulation irrespective of the content or type of voice-over recording being done.
Even when you need to do a voice-over recording in a foreign language, fluency is important. But no one says it must be totally rid of the voice artist's accent. For instance, the natural accent of a professional Arabic voice-over artist can arouse a listener's interest and further prove the authenticity of the voice-over recording. It is this ability to draw attention with excellent diction that has got many to consider and favor voice-over services.
3. Perfect Speed
The tempo of a professional's speech can totally change the tone of a voiceover script. Speed also comes into place when you have so much text to run through in a short time. While voicing the text yourself may sound rushed, a voice artist can read the same amount of text at a high speed while maintaining clarity.
Typically, 150 words can be read clearly in one minute. However, depending on the situation, this can vary dramatically. For instance, when voicing content for educational or training purposes, the voice artist needs to speak more slowly to allow students adequate time to assimilate the content.
The beauty of professional voice-over services is that professionals know how to properly use their voice speed to complement whatever style of audio or video is being produced.
4. Accurate Tone
Just as you respond to the situations you face in the day differently, so every scenario in your content should be portrayed with a different tone. Everyone who employs voice-over services does this because they are sure that the voice artist will use various tones to bring out various emotions in their listeners or viewers. 
You can choose which of your audience's emotions you want your content to appeal to and communicate this to both your content writer and voice over artist.
5. Rhythmic Adaptation of Speech
Voice artists need to be able to change their speech rhythm to suit each voice recording, hence the importance of this feature. For example, a dubbing artist must adjust their speech rhythm to allow their voice to emotionally match the original sounds while maintaining source-synchronous to the original picture. After translation, a foreign-language text may become longer or shorter, so the professional, say a French or Arabic voice over artist must be able to alter their speaking tempo to match the original.
6. High-quality Output
With the high-quality output produced, it is no surprise why everyone loves voice-over services. Professional voiceover services use high-quality microphones and recording equipment to capture your voiceover in the best possible way. The final output is a crisp, clear, and high-quality voiceover that sounds great to the listeners.
7. Multiple File Formats
Everyone loves to have a plethora of options. And that's exactly what professional voice-over services deliver when it comes to storing the final output. A voiceover done by a professional is saved in various formats including MP3, WAV, and AIFF. This way, you have access to anyone that serves your purpose.
8. Fast Turnaround Time
The typical professional voice-over service offers an impressive turnaround time of between 24 and 48 hours. The process of voice-over recording is quick and efficient because of the years of training and practice that professionals have. The short time frame it takes for professionals to record and deliver a voice-over is one of the features that attract people to voice-over services.
9. Customers Fulfillment
Combining expertise and experience with impeccable listening skills, professional voice-over services can deliver recordings following customers' specifications. This way, these professionals are known to meet customers' expectations, and because they are familiar with the industry, they even go ahead to surpass these expectations.
Everyone naturally gravitates to where they feel wanted. When a team is eager to go the extra mile to ensure that customers' specifications are met promptly while offering the needed support in a friendly way, every transaction goes well for the parties involved.
Also Read: 6 benefits and best practices of on-hold messages at the Call Centre
10. Direction and Feedback
Everyone loves to be heard, and voice-over professionals love to listen. They are open to your direction and feedback regarding each project you need them to execute. You can make negotiations with regards to the number of extra recordings you want them to cover after the original one has already been delivered.
Those who offer voice-over services know that you may need a pickup or two due to corrections made to the script or a miscommunication. And you may get a pickup or two at no extra charge.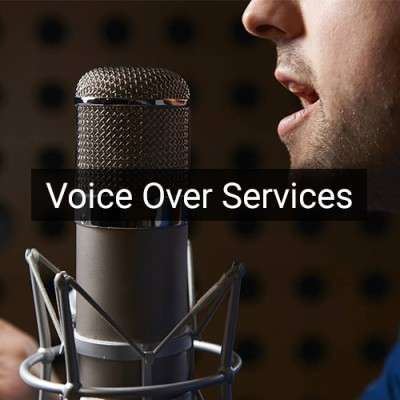 Benefits of Voice Over Services
Hiring professional voice over services will offer you and your brand many benefits to you and your brand which include but are not limited to the following:
Gives your brand's talent pool more flexibility
During the lifetime of your brand, you will need to publish different content with your clients and the content won't border on the same genre. It will be a waste of money to hire a new voice actor for each genre. An effective way forward will be to reach out to an established business that offers voice-over services. They have a pool of the best trained and experienced voice artists whose recordings will help your brand connect better with your audience.
Gives your brand an authentic voice that builds credibility
While they may be effective elsewhere, the presence of celebrities in marketing or corporate videos seems rather forced and totally unnecessary. A professional voice artist will bring more legitimacy to your marketing campaign and boost the confidence and creativity of every member of your team. They exude self-assurance and are capable of completing their tasks for you according to your specification. With them, you are sure to create persuasive videos.
Neither organization appreciates having their time wasted or their routines disrupted. One way to prevent time wastage when creating video content is by hiring professional voice-over service providers. With them, you are almost guaranteed to get your voice-over recordings within the set deadline. The reason is simple: because they have mastered their craft and have adequate experience, there are little or no hiccups they are ill-prepared for; so nothing is stopping their prompt delivery.
With time-saving comes cost saving. Because of their expertise, professional voice artists will spend a reduced recording time, and this means, you don't have to spend a lot of money on studio time. Also, if you don't already have access to a recording studio, sound equipment, or efficient audio editing software, you don't have to spend so much money on getting them. Simply ask the voice over service provider to include that in the service fee, if it isn't already covered in the cost.
Conclusion
Videos are a more appealing way of reaching your customers with whatever offer you have for them. And so, voiceovers play a major role in getting that message across to customers. These video contents go a long way in creating or promoting your brand identity. To ensure that customers get the right image of your brand, you need to keep delivering high-quality voice-over services, and for that, you may need to employ the services of a professional voice artist.
To know more features and benefits of our Voice Over Artists and Voice Over Services must visit Studio 52.