Making a corporate video is no easy task, it takes time, patience, and a significant amount of work. If you are going to shoot in a location that you are not familiar with, there are hundreds of things that can go wrong. This is why it's important to have someone who can guide you all the way from obtaining film permits, the best locations to shoot, hiring local actors to the history of the city. As one of the top video production companies in Dubai, UAE, our team at Studio52 would be a perfect partner for your shooting needs. Here are 10 reasons why we think you should hire a local video production company like us.
Burj Khalifa
The iconic building is a true feat of engineering representing the heart and soul of Dubai, which is why it's at the backdrop of almost every video project done here. You can step onto the open-air terrace and observation decks on the 125th floor for an unparalleled view of the city and beyond, like the shores of Iran. Incredible isn't it? 
Now what you might not know is, there's always a massive queue as no one wants to pass this incredible photo opportunity. Filming with a video production crew who have the permit means you can clear out an area for your shoot.
Dubai Creek
Also known as Khor Dubai, Dubai Creek has been the lifeline of the area since its construction in 1961. Now, it represents the rich heritage of the port city. The creek divides the city into two parts, Bur Dubai and Deira, the old and the new. The entire Dubai Creek area is reminiscent of the lost Arabian world surrounded by old-style markets or souks, heritage buildings, traditional desert homes, and the smell of perfumes and spices. To truly experience what Dubai Creek has to offer you have to take the signature abra, a water ferry, ride.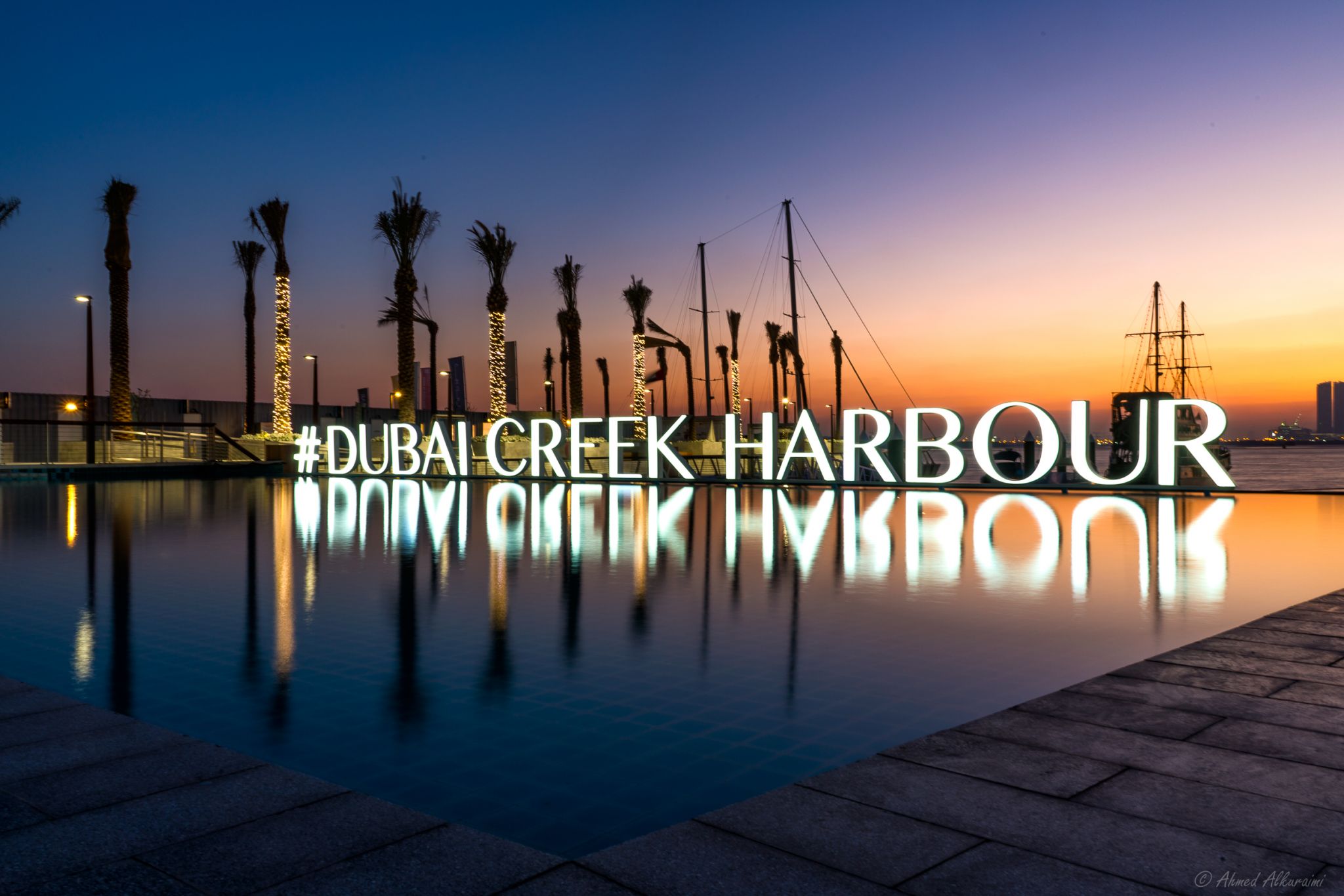 As you glide down the waterway, you can capture the gorgeous sunsets over the creek, colorful passing dhows, the lush green golf club, the winding passageways of the souks, and more once you get down to the old side of Dubai.
Palm Jumeirah
Palm Jumeirah is a manmade island, which when viewed from above resembles a stylized palm tree. This incredibly huge island is among many of the world's firsts in Dubai. The island is home to some of the most luxurious resorts and fine dining experiences.
If you want to shoot a high adrenaline shot for your video, then this is the perfect place to be. A thrilling skydiving sequence and super-fast speedboats gliding on the water are just what you want in such shots.
Burj Al Arab Jumeirah
Dubai is not just a city of superlatives but also a synonym of luxury, and Burj Al Arab is just that. It's a 7-star hotel that boasts of Skyview Bar, an underwater restaurant, and an outdoor tennis court. As one of the most iconic symbols of Dubai, it is hard to miss this building designed to resemble the sail of an Arabian dhow or ship. When illuminated at night by choreographed color sculptures of water and fire, it is a sight to behold.
Whether you want to film the insides of Burj Al Arab or place the iconic building in the backdrop of your images and video, we know all the right places from where you can get the best view. Burj Al Arab is not just famous for its gold-gilded insides and Swaroski crystals but also famous for some incredible stunts from its helipad. And not just that we also have the drones to help you capture some of the most beautiful aerial shots of this iconic hotel. 
Hatta
Not too far from Dubai, some 130 kilometers south-east of the city is a beautiful mountain enclave called Hatta. It is a perfect escape from the bright lights of the city with amazing, undisturbed natural scenery. 
Set up your shop with the Hajar Mountains as your backdrop. There's something for everyone here whether you are looking to capture the laid-back life of a tribe, camping fun, or thrilling activities like kayaking, hiking, dune bashing, zip-lining, and mountain biking. If you are looking to shoot an adrenaline-pumping ad or natural wildlife amidst the desert, there cannot be a better spot than this.
Global Village
Discover different parts of the world in just a few hours at Global Village. The multi-cultural theme park represents 78 nations around the world and features heaps of cultural shows, carnival rides, street food, shopping and so much more. So, all in all, a place to have loads of fun.
A place that has so much to offer is perfect for capturing some of the most vibrant and colorful photos and videos. It's an opportunity that you should not miss while shooting in Dubai.
Film Permit
Dubai is a photographer's paradise with so many magnificent things to capture. But, without a film permit filming in public locations will be impossible and offensive too. This is why you need a video production company that can obtain a film permit for you to shoot in the locations you choose. 
Get Dubai & Abu Dhabi Filming Permit
Many of the permits have an expiration date so it's best to pick a video production company in Dubai before you come for the actual shoot. The local video production companies can not only give you insights on the best location to shoot, obtain a film permit but also arrange for local actors, cameras, stay, and more. 
Food
From street food to fine dining, you have plenty to please your palate. If you are looking for delicious Emirati food in the city eat at the local restaurants and discover the true taste of Dubai. Being in Dubai you must not leave without tasting the local cuisine like Shish tawook, Labneh, Shawarma, Umm Ali, Kunafa, and baklava.
For people who love to explore cuisines from all over the world, you won't be disappointed at all with what Dubai has to offer. With award-winning restaurants and Michelin star chefs, you can sample dishes from Greek, Asia, China,  Europe, France, India, Portugal, Italy, America, Turkey, Japan, Lebanon, and others.
Also Read- Top Video Production Companies in Dubai 2021
Climate
Dubai's climate is not for everyone, the temperatures can reach to its extreme in the months of May till August. On any usual day, it's almost impossible to see the temperature drop down below 30 degrees. The city is also known to have a warmer winter where temperatures don't drop much below 25 degrees Celcius. 
During summer, we also have sand storms, which makes it difficult to shoot outdoors. Being with an experienced video production company in Dubai would save you tons of money and time in scheduling everything around these unpredictable incidences and nature.
Rich History of Dubai
The history and culture of Dubai are deeply rooted in Islamic traditions and go all the way back to the early Minoan period. It used to be a vast mangrove swamp, which is now home to some of the most beautiful beachside restaurants.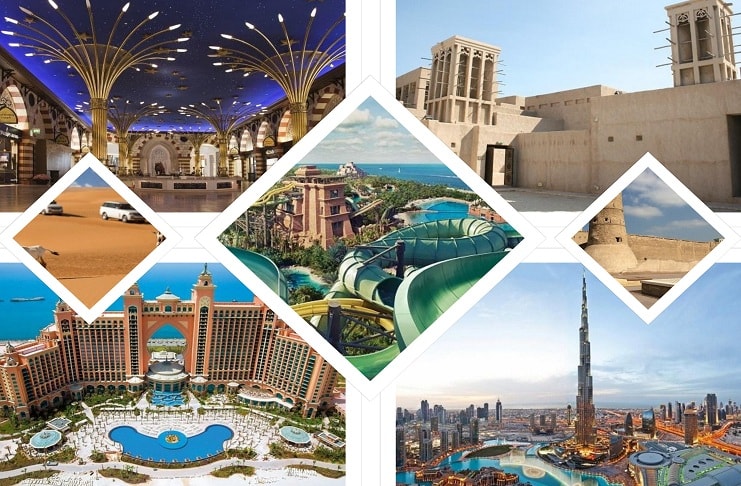 A potpourri of cultures from all corners of the world, Dubai is no more a barren land but a thriving city or rather a megacity. There's so much to this city that only a native can tell you all about it, which we have no shortage of in our video production team.
If you are looking for someone more get in touch with us or browse through our website to find out how we can help you.