Unlike weddings, birthday parties, or anniversaries, corporate event photography involves a more formal environment. A good corporate event photographer would capture creative shots even if the event does not really create a lot of opportunities for this. And that comes with long years of experience in the industry and some special skills to capture corporate events. 
Professional photography is the first step towards finding the right corporate event photographer.
When used properly, an image that's eye-catching will have a better impact on your branding, help you get more exposure and more business. Professional photography also gives your company a sense of credibility. It is like presenting your business to the public to make you look more competent. This is why when you go looking for a corporate event photographer for your next event you need to settle on nothing less than the best. Wondering how to do that? Well here's how.
Check the Portfolio
It's true that you cannot judge a book by its cover, but if you read the book you can definitely judge it better. A photographer's portfolio is kind of a photographic book, a collection of their best photos to showcase their work. Going over the portfolio gives you an insight into the photographer's approach to photography and their working style.
And that's not all, it also helps you understand how experienced they are. For example, if a photographer claims to be a corporate event photographer but has more photos of weddings than corporate events, you may want to reconsider your choice of your photographer.
Style of Photography
It's important to know the photography style of the photographer you are going to hire. Different photographers can photograph the same event and deliver totally different photos. There should be focus and consistency in the way the photographer composes the shot and edits in post-production. From start to finish the end results should communicate one distinct style.
Read Online Reviews
When you have selected a few event photographers, it's time to do a review of them. Do online research to see the kind of reviews customers have left on their websites. Also, take a look at the photographer's website to see who they are and who they have worked with previously. Don't forget to read the client testimonial and if their website doesn't have it you should proceed with caution as they might not be as experienced as they claim to be.
Formal Education in Photography
A certificate is a testimony to the fact that the person is an expert at the job. A photographer who has a certificate to support his work would make you feel more confident. If the photographer has learned from real pros in the field, it's even better as they will be able to adapt to all changes that may come their way.
Experience in Corporate Event Photography
It's important that the photographer you are considering hiring has prior experience in handling similar events. For example, if you are hiring a photographer for corporate leadership summit and the photographer has experience only weddings, or family events, they might not be the best fit for you. Going through the photographer's portfolio should be able to tell you this, but if not, you can always ask them.
Time to Produce Results
Most photographers are good at taking great photos but not all are great at developing hard copy photos or editing digital images. Some of them may take really long to produce results. For event photography, you need to share some good-quality photographs immediately on your social media accounts. This is why it is critical to ask your photographer how quickly they can edit and deliver your digital photos. Don't forget to get this agreement in writing.
Easy to be Around
A photographer cannot take good photographs unless he can make people comfortable in front of the camera. If the photographer is not friendly it will be difficult for him/her to take good shots. This could also ruin your event for the clients and other professionals if the photographer is rude while requesting photographs. So, make sure that your event photographer is approachable and a happy person.
Professional in Communication
You want an event photographer who is reliable and easy to work with. If the photographer takes days to reply, is vague with the details, arrives late at the meeting, forgets to show you a portfolio, or has a tendency to leave the projects halfway, forget about hiring such a photographer. 
Shot List Guide
A photographer would usually have a written shot list to guide him/her through the event. But, you should be able to tell the photographer about the types of shots you need and if there are any other specifications. If the photographer is too concerned with overly creative, time-consuming shots, you don't need him. Shots that are really fussy to create could mean missing on other important moments elsewhere. 
Get Quotes from Multiple Photographers
Before you start working with a photographer it's important to lay the costs out up-front. Every photographer can have a different price. Ask your photographer what is included in the package, the number of photos you will receive, the size of the prints, or the cost of retouching to help you select the offer that's best.
How Hiring Studio52 for Your Event Photography Can Help You?
Whether it's a seminar, conference, award show, trade show, annual party, or business dinner, your corporate events are important because they are the milestones for your business. Having high-quality professional photos of your event is more valuable than you might think. These are the photos that your clients and prospects will see on your social media, marketing materials, blogs, and website for weeks and years to come.
Hiring a professional event photography service like Studio52 gives you the advantage and confidence that they will pay attention to detail and deliver stunning results. Before, we finish let's look at what our team of professional corporate event photographers can do for you.
40+ years of experience in photography

Flexible and friendly amidst the crowd

Strong professional ethics

High resolution and splendid photos

Every unique and memorable moment captured

High-quality images that can be used in any of your marketing collaterals

A complete value for invested money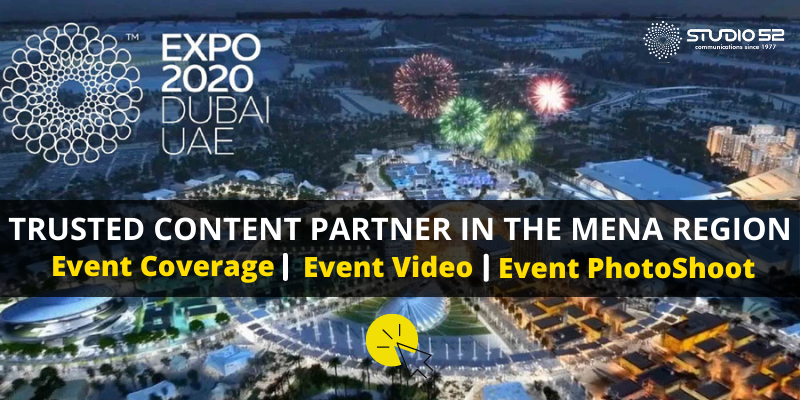 So, that's it from us. If you are looking for a professional event photography expert in Dubai, for any of your upcoming events, then Studio52 can provide you end-to-end professional services. Our expert event photography team in Dubai has worked with many leading companies so you will be settling for nothing but the best. For more information, you can view our gallery or contact us for a free consultation and we will be happy to help you.