Real estate enlisting with video walkthroughs get 403% more inquiries than those without – that's something you wouldn't want to ignore! Isn't it? Selling real estate is all about the relationship and trust. Let's face it, not every listing or neighbourhood is glamorous or visually stunning. However, there is an audience and buyer for every property when promoted strategically. A video is a powerful tool that can help you stand out from the crowd.
Video production can be a laborious process, but the payoff is definitely worth it. Video is the most engaging type of content people consume these days. And if you can work out how to produce a perfect video walkthrough for your real estate business in an effective, sustainable way, you will reap the benefits for a long time.
With that said, let's walk through the steps of video production and get you on your way to bringing your own videos to life.
Set a Budget
This first step towards video marketing success is ensuring you have quality videos. Even if you have been told not to worry so much about production quality. For the real estate industry, it is important that your video walkthroughs look polished and perfected. This industry is all about aesthetics. If a property is not visually pleasing, then you are not going to have much luck getting it off the market.
Check out this video from Studio52. It really shows the value of investing in quality video production. From the drone footage to the B roll to the swanky music, this video really transports the viewer into a whole new world of luxury.
If you don't have the budget for something this glamorous, don't fret! There are ways to do video in-house professionally that won't cost you an arm and leg. We're lucky enough to live in a world where a lot of us carry around high-quality video cameras in our pockets every day. 
It is also important not to forget that you need to set aside a budget for promoting your videos on platforms like Google, Instagram, and Facebook.
Planning
Since perception is everything and you rarely get a second chance to make a good first impression, it pays to plan your video and make the most of this marketing opportunity. A plan is essential for any business looking to have a successful real estate project.
Before actually shooting the video, take the time to strategize. It takes time to plan the types of videos you want to create, how you're going to film and edit your videos, where you're going to place them, etc. The video production process involves many steps such as finding actors, scripting, props, lighting, sound, and editing. Planning will help all of these components come together in a reasonable time frame.
Leverage the power of 360 video
360-degree video technology may still be relatively new, but it has already become a powerful tool for realtors. Pictures can only give an accurate feel of a property. However, a 360-degree real estate video gives your house the best chance of standing out on the market. A 360-degree video can be much longer than a traditional video as potential buyers watching this video will want to have enough time to explore each room.
It's hard to represent the beauty of the physical product on a flat two-dimensional surface when you're selling something tangible online. Standard video is often not enough to capture such a large multi-functional space. This is where 360-degree video comes into play! This video experience allows your audience to explore and tour around the space without having to actually visit the property.
Keep Your Videos Short and Sweet
The attention span of a viewer diminishes as they progress towards the end of the video. This doesn't mean you shouldn't be creating long-form video content. It just means you've got to do it right. People don't have all the time in the world to devote to longer videos, but if they love it, they are going to watch it till the end!
Therefore, it's most important that your video is only as long as it needs to be to get your information across – and not a second longer. Your real estate walkthrough videography should be designed in such a way that it's engaging all the way through. Your video should provide information that is valuable or tell a story that is compelling, without any extraneous details.
TV Commercial Video Production Dubai
In general, keeping your walk-through videos to 5-minutes and under will ensure that you lose fewer viewers, and potential clients, before the video, is over. Make sure to present the most compelling information you have as soon as you can in your videos. Don't leave the good stuff until the end! Get it out there as soon as possible. This will lead to more viewers sticking with your video until the end.
Stage the Property Well
Before you begin filming the video walkthrough of your property, you need to know it like the back of your hand. The more you know the property and its highlights the easier it will be to bring them to life. Once you have familiarized yourself with the property, it's time to prepare for filming. 
So, how do you stage the property before filming? You start by taking a few minutes to check out all the rooms and get a feel for each space. Notice storage areas, interesting nooks, and corners, or any other places of interest that aren't immediately noticeable, so you can stage and show it to the buyers in the video. Get yourself comfortable in the house to help you plan the video walkthrough better.
Once you have done that, start by decluttering the property. Go around once to make sure everything is where it should be. Remove personal items, such as pictures of the occupants if there are any. Also, make sure all the blinds and curtains are open for the natural light to pouring in.
Prepare the property as if you were hosting an open house. Clean out the closets, mow the lawn, put away family photos, and clear all surfaces of clutter. In short, try to avoid having anything left in the way that could ruin an otherwise perfect shot.
Shoot with Natural Light
Lighting plays a critical role in the quality of any video. This is why shoot with natural light whenever possible. The quality of your video will look infinitely better and it will send a message to buyers that this home is bright and airy. That being said, filming on a clear day might cause an abundance of sunlight to stream in and 'blow out,' or overexpose. It's best to shoot in slightly overcast conditions as the light is diffused through the clouds and shadows tend to be softer.
The best time to shoot a video walkthrough is in the morning when the light is not as harsh. If you arrive at the property in the late afternoon, you also risk running out of daylight hours. Always give yourself more time than you think you'll need, otherwise, you may have to rely on artificial lighting, which can cause your footage to appear unnatural.
All properties are not similar, that's why there's a good chance that you may still encounter a space that's dark and dingey. During such circumstances, you need to make use of all that is available to make it look good. If the home you're selling has under-cabinet lighting in the kitchen or pot lights throughout the living room, keep them turned on to showcase those features to potential buyers.
If there's a room that doesn't have enough light, use a lighting kit to fill the room. It's important that the lighting is complementary to the room. While filming a bedroom, it should have a warm inviting feel, not harshly lit to look like a hospital ward.
Be Slow and Steady
70% of home shoppers want to virtually tour the inside of a home. Keeping this fact in mind, give your audience enough time to visually take in the layout of the rooms and notice relevant details. Use slow camera movement like panning to help them notice the smaller details of shelves, counter space, and how one room flows into the next. For most people, it takes more than a few seconds to mentally absorb a scene or environment. That is why slow and steady is a lot better than fast and jumpy!
Grab Aerial Shots
If you have access to a drone, it's a bonus to get those aerial shots of the house and the surrounding community. Grab a few shots in the front and back of the house. Then if it's safe, take it to the sky to get a bird's eye view of the property and the lot. 86% of home shoppers want to find out about a specific community from video marketing. So, why not give them that? Aerial footage provides a nice framing and gives the buyers a decent view of the surroundings giving them more confidence.
Focus On The Details
It should go without saying, but you want to provide as much information as possible to renters. Providing clear video detailing all the rooms and storage compartments is vital, but so is informing renters of aspects that might not be instantly noticeable.
You will significantly increase your chances of enticing renters if you provide them with as much information as possible. That includes any bonuses, such as outside space and communal areas.
You could also showcase the lifestyle around the property. For example, if it's a beach house, show the lifestyle around the property, include shots of what a typical day would feel like for a bachelor or a family living in such a house. When it comes to creating video walkthroughs for property listings, don't just limit yourself to the property; think about how you can sell the lifestyle and the location that go hand-in-hand with the property.
Also Read- What is the difference between a video walkthrough and an enhanced video walkthrough?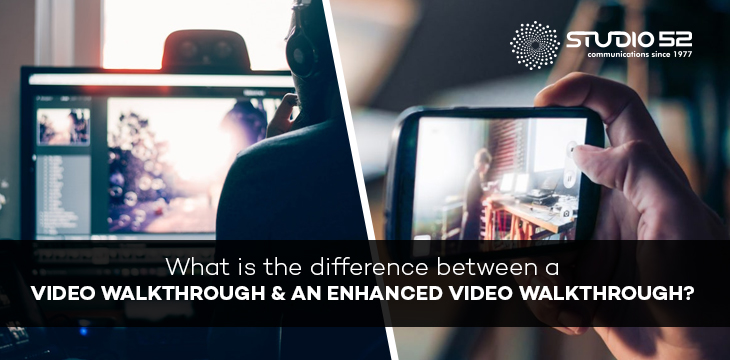 The Right Music
Okay, this might not seem like an important thing to focus on a real estate video walkthrough, but believe us it sure is an important aspect. Your listing should have a piece of inviting music so the buyer can watch the entire video. For this, you need to first think about the mood you want to convey and then go from there. For example, if you are creating a video walkthrough for family property, you will want to choose a track that's uplifting has a family vibe so the potential buyers can imagine themselves in their new home.
A video walkthrough is an excellent tool for real estate marketing. There are plenty of ways videos can help you connect with your potential customers. Now, if you are wondering how to get started with real estate video walkthroughs you can reach out to us or browse through our gallery for more information.