In eCommerce, images are everything. They can make or break your conversions. 93% of consumers consider visual appearance as an important deciding factor before making a purchase. The biggest problem eCommerce retailers face is that the consumers cannot pick them up and see products for themselves. They are entirely dependent on the image you provide. 
If you are someone who doesn't know photography well, it's probably best to hire a professional product photographer. But, if you are confident in taking matters into your hands, here are a few basic tips to achieve professional and attractive product photography. 
Use A White Background
A clear white background works best for product photography in eCommerce. Using a complex background would take the focus out of your product. So, the best bet for you is to use a white background. It's simple and puts your product right on focus. This way the consumer only sees your product.
The white background provides an opportunity for other colors to pop out. This is why big eCommerce sites like Amazon, Etsy, and eBay prefer sellers to use a white background.
Show Different Angles
Including multiple images of your product from various angles helps your buyers fully visualize the product, as if they were handling it in a physical shop. Give them as many images as you can from the front, back, top, bottom, and so on to let them verify the quality and functionality.
A study from ViSenze suggests that 62% of generation Z and millennial consumers want visual search capabilities. Using high-quality product images from different angles would increase your chances of getting picked up by a visual search engine. 
Lighting
More than 90% of image quality comes down to correctly lighting your subject. If you can't get good lighting, your product images won't look professionally done. You can use both natural and artificial lighting to photograph your product. You just need to know which one to use when. 
If your product is being used outdoors or worn by a person, use natural light. But, when you have to showcase every single detail in products like a watch, wallet, or bracelet, it's perfect to go with artificial light.
Use Right Lens & Distance
It's very important to use the right lens and the distance to make your product photos look consistent and beautiful. If you +go too close to the product, the middle of the product becomes bigger and the edges look curved. And if you step too far back, you would notice an opposite effect.
Getting the right lens is also equally important. The choice of lens would mostly depend upon the product you are photographing but the 50mm to 85mm range is most common. 
Add 360⁰ Product Views
Multiple images from different angles are good, but there's nothing like a full 360⁰ view. It provides detailed information about the product as the customer can interact with it as he or she would in real life. It is worth knowing that eCommerce websites that are using 360 product photography increase conversions by up to 47%.
360 product photos are also great at establishing trust in your product. According to Adobe's "What Shoppers Want Study," 91% of online shoppers say 360-degree photography is a must-have.
Use Big Images
According to a study conducted by Forbes, "50% of online shoppers say large, high-quality product images are more important than product information, description or even reviews. So, you must include big, high-quality images to make your customers' shopping experience more enjoyable. 
Pro Tips to Get Started with Amazing Product Photography: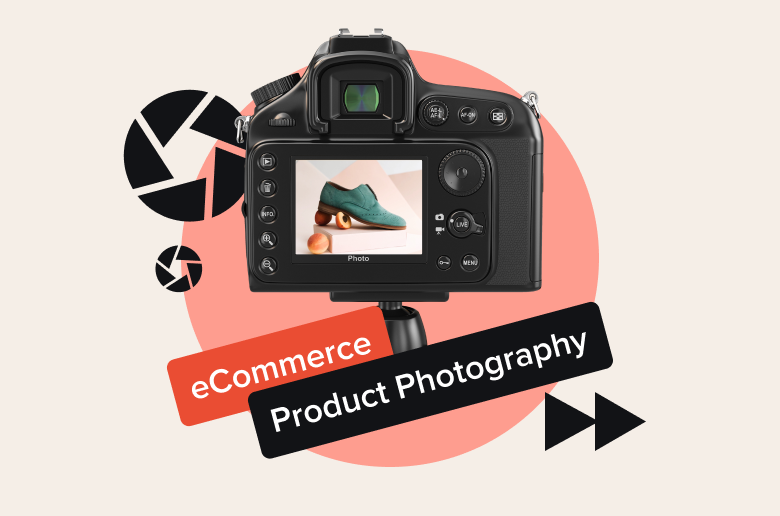 eCommerce photography can take a while to get right but that doesn't mean you cannot do it on your own. If you are passionate about it and have some photography know-how, it can be really exciting to take photos of your product. Below you would find a few product photography tips to get started.

Camera Setup
Any DSLR or mirrorless camera can capture high-quality photos.

Adjust the ISO, Aperture, and shutter speed of your camera according to the environment you are shooting in.

Use tripods to bring stability to your product photos.
Studio Setup
If you can get a dedicated DIY studio, it would be great in the long run.

Make sure that the studio is situated in a place with proper lighting.

Buy a high-quality backdrop to set up sweeps with or make your own using a poster board, foam pieces, and a metal clamp.
Additional Tips
Always prep your products before the shoot.

Go with a solid background color, preferably white but if another color helps your product pop better, go ahead and use it.

Make sure that the lighting is not too far from the product.

Retouching is important but do not overedit.

Select images that are sharp, high-quality, and highlight every aspect of your product.

Take shots that show the details of your product.

 Use a photography shooting tent or a curved backdrop to eliminate shadows.
Final Thoughts
So, there you have it, all the necessary tips to get you started with product photography. Knowing how to photograph products for your eCommerce will go a long way in boosting sales and revenue for your brand. Because no matter how amazing your products are, taking compelling photos of your products is crucial for success.
Why Choose Studio52 for the Best eCommerce Product Photography Services?
To stand out among your competitors, high-quality images are a must for eCommerce. If you want to save time and hire a professional, Studio52 is right here. As a professional product photography company, we can help you get that perfect shot. Here are some of the reasons why you should choose to partner with us:
Also Read- 11 Stellar Product Photography Ideas To Help You Improve Sales
Studio52 is one of the best product photography companies in Dubai. 

We have been doing product photography for over 40+ years

We are also experts at 360 product photography.

We have the technical knowledge to see the project right to the end.

We have a highly creative and productive team with a perfect blend of experience and fresh ideas.

We have state-of-the-art equipment for high-quality photographs.

We already have a professional studio setup so you won't have to spend extra on setting a new one.

We have the accolades that prove we do our job well.

From big brands to small we have worked with all.
We at Studio52 can provide you with a smooth and seamless photoshoot experience your company deserves. Take a look at our gallery for our past work experiences – Product Photography or get in touch with us to know more about how we can help you.