Timelapse Camera Usability
It wasn't long ago that time-lapse video cameras were something just professionals had the chance to use. With progress in all areas electronic, more affordable components and your need for more people to picture things over long time periods time lapse cameras are now accessible for the masses. An own time lapse camera is a camera which requires a picture in a set time period, anyplace from minutes to hours. A time lapse camera enables you to take incremental pictures of something that takes some time to complete.
Check out what temperatures the construction timelapse video camera may operate in, whether you are in a particularly cold weather you might find the said battery times could be. Discover what the intervals the camera may take pictures at, will these get the job done with what you would like to do a time lapse of. What're the mounting options for your camera are you going to be able to mount it readily or possess it in a place where it'll work for your time lapse.
Also Read-Best Timelapse Cameras for Construction Sites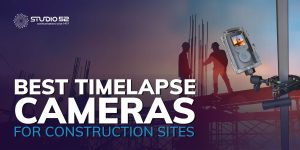 Best way to monitor your projects
For every construction company, the biggest challenge is to keep a tab on multiple projects simultaneously and make sure that every project progresses in alignment with the planned schedule. Delays in managing project timeline can prove costly, while at the same time continuous monitoring, supervision and coordination requires lots of manpower, which in turn adds to the budget. But there is an innovative solution which can put all your worries to rest. Yes, we are talking about timelapse camera. Timelapse camera enables you watch your construction project grow day by day sitting in any corner of the world.
Benefits of Timelapse camera for Construction Industry
Live monitoring from remote location
Timelapse camera equipped with live monitoring feature enables you to view live video streaming of ongoing going work your project site using any PC or mobile device from anywhere.
Recording and documentation
Timelapse camera installed with DVR unit can help you record any desired footage of your construction project. This documented evidence can be helpful in settling legal issues.
Drone Timelapse Cameras
Take presentation of your real estate project to new height with drone timelapse video cameras. Our timelapse photography and videography combined with aerial shoot by high-tech drones helps you to capture and showcase bird's eye view of your project and surroundings.
These are just some of the advantages, there are more. If you belong to construction industry – be it housing construction, real estate or civil engineering construction – and think that timelapse camera can help your organization, and then visit Studio 52
Studio 52 is a leader in timelapse production in Dubai and UAE.