Construction industry is an important industry for the development of society, business plans and infrastructure. As the CEO or owner of such a firm, we are busy with a massive list of important activities including implementing vision on paper to reality.
The day is listed with Client meetings, internal meetings with various departments to measure the single biggest concern or the project's progress! There are obvious questions which cloud the mind always: What is the status of the project? Is the company meeting deadlines? Are we on schedule for each milestone or getting delayed? Not just the CEOs or the owners, each manager involved in this process is working towards achieving their milestone with close monitoring and keeping a check on projects built up.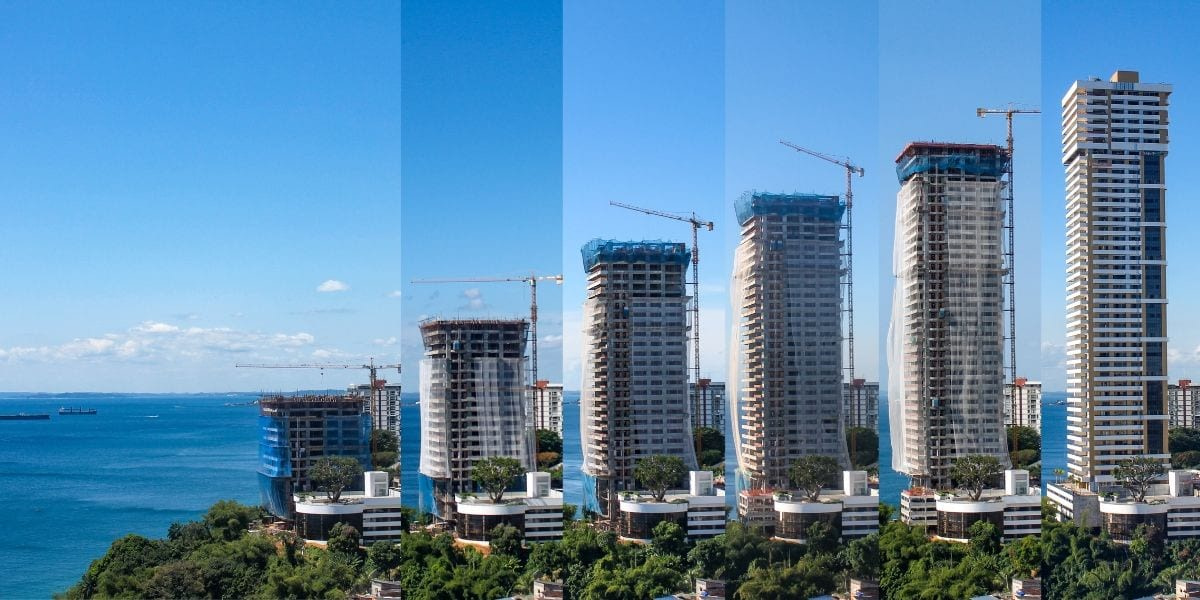 For Commercial projects or massive projects with many board of directors, It's a nightmare for top management to keep track of construction progress and share the current status with the clients and other important stakeholders. However, our self-initiated regular progress update and success chart keeps the investor and clients at peace and updated without much of a hassle. Question….How do we do that??
It's time for us to convert regular full-day meetings, uncountable sketches, and charts, Graphs, Long project update reports TO digitally monitoring progress with TimeLapse Video. 
This will help the team or approved members view live work at site without spending hours to travel the site for checking the progress. As well as receive monthly video updates to share with the investors and partners. Digitization has reduced the workload to extremes. The challenge is to adapt to the technology as fast as we can to invest our time in more progressive assignments and challenges while the automated technology handles the regular insights.
Timelapse videos and the Construction Sector
Timelapse videos are an important tool for construction projects which include civil engineering works, equipment installations, shop-fit outs, interior assignments, office fits or refurbishment projects.
 Video lends a certain personality to a brand and standardizes the impression of the firm to a certain extent. People want to know how things are made, how much time is being taken, as huge investment is made. Timelapse videos visually convey such information with an added essence of fun and creativity.
Timelapse videos can enable someone to see their dream house being built from scratch in a matter of minutes Or it can be a great tool to present to the clients about the progress of a large construction project like a shopping mall, manufacturing unit, or other multimillion-dollar projects. 
Let us discuss some other utilities of construction timelapse camera videos:
Timelapse videos have high PR value-

Public relations departments deal with media and need to share smart updated content. This in turn builds company image. The Timelapse video helps in creativity status update and win confidence of the viewer for the project. Media loves it as they can show this footage on their channels which results in high viewership. Live updates and regular videos become inevitable tools for the company by installing Timelapse Cameras on their developing site.

Timelapse videos help to pitch for new business- For the sales and marketing teams, pitch presentations are a means to generate more business. A timelapse video helps in the preparation of these pitch presentations as it conveys the capacity, capability and competence of the company to the client, within a matter of minutes. Such a visual representation may be a needle mover as far as getting new business is concerned where winning client's trust is utmost important to close the deal. And clients believe WHAT they SEE!!
Timelapse videos feed your content engine for the Marketing Department- Creating content that engages your audience is a challenge for any Company's Marketing Department. There is nothing better than a timelapse video as it creates a high degree of engagement. A timelapse video unfolds the story and ensures that the audience becomes a part of it in a matter of minutes with regular updates and creative engaging messages.
Timelapse videos help build Corporate Reputation by showing community engagement- Construction sites are usually full of dust and pollution due to working machines all around. However, a timelapse video can effectively portray the story of regeneration of an old and damaged site and how an organization has managed to create something concrete and useful on it over a period of time. This creates positive engagement within the immediate community, if used wisely, or as promotional material to civic authorities.
Timelapse videos are great for the internal communications department- At bigger firms majority of the employees won't even know what their company is doing at a particular point of time. Timelapse videos of important projects, if shown internally amongst employees, helps in creating internal branding and employee engagement. Employees feel proud that they are part of an organization which serves a greater purpose in the business ecosystem.
Timelapse videos are great for client engagement- TimeLapse construction videos are like visual reports shared with the clients about the progress of a particular project. Often it saves them time for traveling to remote locations while giving them a clear idea of what the status of a particular project is at a given point of time. It serves as a great project tracking tool creating enhanced engagement for clients.
Timelapse videos have great sharable quality- Engineering construction generates lot of human curiosity as it is a technical job that requires high degrees of human involvement and coordination. So a timelapse construction video has an inherent high degree to share the media and if promoted wisely in the company's social channels or websites gives a high number of shares and views as well as higher watch time on YouTube.
Timelapse videos can be used for onsite dispute resolution- Disputes at sites are common, especially if they are related to an onsite occurrence. Timelapse videos will show high resolution images of the chronology of events as it happened and help to find a solution for the dispute.
Timelapse videography is great for remote construction projects- Construction projects at remote locations can be monitored and tracked with the help of regular video coverage that marks the progress within a stipulated date.
So timelapse videos are great for your company as it gives you a sense of engagement, achievement and some entertainment, even if you are in a serious business like construction.
Also Read- 10 Most Incredible Construction TimeLapse Videos of Recent Times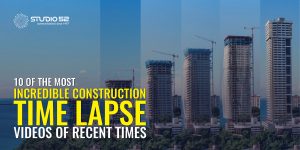 At Studio 52, engaging and HD-quality creative timelapse video production is done for our prestigious clients. The videos are constantly updated with the latest visuals and statistics for clear visual presentations.

Our Experts are eager to consult and share and provide a free recce and estimate for the installation of construction timelapse cameras on site. Connect with us for a free demo online, visit https://studio52.tv/video/timelapse to view few of our recent works.