Expos or trade shows are incredibly competitive spaces. Every exhibitor is fighting for attention. One of the best ways to create a buzz is through video content, especially when it is the preferred form of business content according to consumers these days.
For many businesses participating in trade shows or expos is a part of their marketing campaign, so why not take this as an opportunity to join the dots between events, social media, email, and other digital channels. It is a great way to conduct an omnichannel marketing approach, ensuring that your brand has multiple touchpoints with the prospect before, during, and even after the show.
One of the biggest shows in the annual tech calendar with over 4,500 exhibitors from around the globe, GITEX, is just around the corner. More than a million prospects visit this prestigious event and 90% of them choose this platform to network and do business.
GITEX gives your business the exposure and multiple avenues needed to grow it. Hopefully, by now, you are prepared with your video strategy. If not, there's still plenty of time to get the balls rolling.
You must be wondering how to get started? Here's how.
No matter how brilliant your PowerPoint presentation or brochure is, it won't be possible to entice visitors to your booth with them, however, a video should do the trick.
Along with showing videos at your booth, you can also engage with attendees, and prospects through video before and after the show. If you connect with attendees throughout the conference experience it ensures that you've grabbed their attention, increasing the likelihood of converting them to customers. There are three different stages where you can use videos for GITEX:
Pre-trade show videos

– It would help you capture attendees' attention before GITEX goes live in October to highlight your booth and encourage them to visit.

Trade show videos

– This type of video would be used in your booth to stand out amidst thousands of companies that would be present during the event.

Post-trade show videos

– Once the event is over you can reconnect with attendees by sending them a video clip of their time spent at the booth or anything innovative you want to try.
Using a Wideo for a trade show is a great way to make your company stand out from the crowd, which is exactly why you're at the trade show in the first place.
Videos come in various shapes, sizes, colors, and styles. We do know because we've created thousands of them. And, not just that we have also created trade show videos for our clients who participated in GITEX over the years. So, we know the event like the back of our hands. We know how to leverage video more effectively at your booth, what parts to shoot, or how to give you the best live coverage.
Our trade show/expo video production services cover everything you need to make video central to your marketing strategy. Whether you are looking to create a pre-trade show video to entice visitors to your booth, film your CEO's presentation, film a behind-the-scenes video, make a video for your display or use a post-event highlights video to reach out to the prospects who missed you on the day, we can help. It could be live event coverage, high-quality photographs for social media sharing, promo videos, company introduction videos, or event videography. We will work with you to capture every moment of your presence at the expo.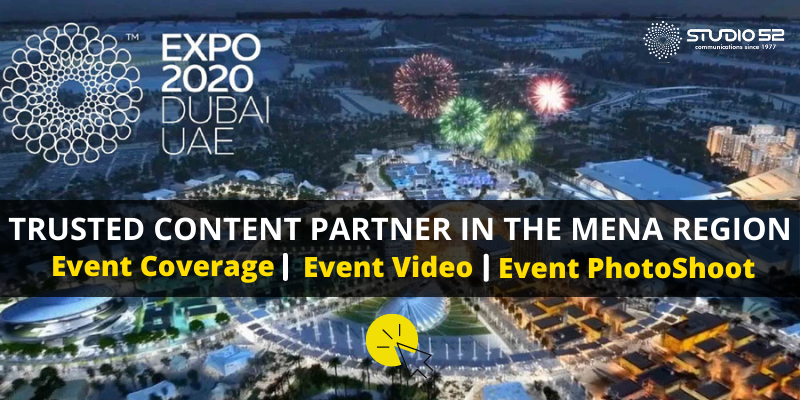 Studio52 has helped hundreds of companies use the trade show videos to their advantage, we can do the same for you. It might seem that there's plenty of time for GITEX to start but, if you want to take full advantage of this trade show you need to begin right away or you will miss out on creating a buzz. 
Ready to get started on your tradeshow video for GITEX? Our video production team at Studio52 is here to help. Please get in touch with us to know more.