Crafting a successful visual narrative requires capturing the right images that convey the right story, regardless of budget or equipment. A smartphone like the iPhone can sometimes suffice. However, having a shot list can be invaluable in providing direction and purpose to your footage. 
Studio52 has worked with many clients and has produced some of the most breathtaking event videos, so we know about a thing or two you'd want to concentrate on. 
Whether you're working with a professional or recording footage on your own, a shot list can help you save time and create a compelling video that attracts attendees. Here are eight ideas for shots to capture during your event videography, ensuring that your final product is a true reflection of your event's success.
1. Capture Emotion Getting Close-up
Events are more than just physical gatherings – they are emotional experiences that resonate with attendees long after the event has ended. The emotional experience promised by an event is a significant draw for potential attendees, whether it be the thrill of seeing their favorite artist perform live or the excitement of learning something new from an educational talk. Capturing attendees' faces when they're expressing these emotions is crucial as it provides invaluable proof that your event delivers on its promises. 
These emotional shots are powerful testimonials that can be used in promotional material and social media campaigns, helping to attract a wider audience and creating a buzz around your event. In essence, capturing the emotions of attendees is an important aspect of event videography as it showcases the true essence of your event and its impact on those who attended.
2. Capture The Main Folk
While capturing attendees' emotions is crucial, it is equally important to showcase the content of your event. Potential attendees want to know what kind of experiences they can expect, which is where footage of speakers or performers on stage comes into play. By recording moments of strong quotes or captivating performances, you can effectively convey the value of your event to those who were unable to attend. 
Capturing the audience's reaction to these moments, such as applause or laughter, can help to create a sense of community and shared experience for those who view the video. These powerful moments of audience engagement not only highlight the quality of the content presented but also convey a sense of enthusiasm and energy that can help to attract future attendees.

3. Show The Environment
When it comes to event videography, it's not just about capturing what happened, but also conveying the essence of the event itself. To create a sense of excitement and anticipation among potential attendees, it's important to showcase the scale and grandeur of the event.
A shot that captures the venue and environment in all its glory can be incredibly enticing, allowing viewers to imagine themselves being there and experiencing the event firsthand. This type of shot not only conveys the atmosphere and vibe of the event but also creates a fear of missing out, as viewers realize what they're missing by not attending. 
4. Introduce Short Experience Snippets
In today's age of social media and instant communication, consumers have become increasingly skeptical of traditional advertising methods. Instead, they rely on the opinions and recommendations of their peers when making purchasing decisions. This is where the power of testimonials comes into play. By featuring positive feedback and endorsements from satisfied customers or event attendees, you can build trust and credibility with your target audience.
At Studio52, we understand the importance of capturing these testimonials in your event marketing video. People are often eager to share their experiences and opinions, so we make it a point to interview attendees and gather their feedback. By showcasing these testimonials in your video, you can provide valuable social proof that your event is worth attending.
Moreover, by featuring actual attendees in your video, you can also create a sense of community and belonging. This can be especially effective if your event is geared towards a specific niche or industry, as it can help to build a sense of camaraderie among attendees who share similar interests or goals.
5. Shoot The Stage! 
Not with bullets! 
Filming from the stage and capturing the crowd from the speaker's perspective is a great way to showcase the size and enthusiasm of your audience. This shot not only captures the number of people present but also the energy and excitement of the event. 
Whether it's a B2B conference or a multi-stage music festival, this shot is a must-have to showcase the success of your event. By capturing this angle, you can showcase the enthusiasm of the audience and convey the message that your event was a huge hit. It helps potential attendees get an idea of the scale of your event and feel the excitement and buzz surrounding it. 
6. Drone Footage Is A Brilliant Idea
In recent years, the use of drones in event videography has become increasingly popular. Drones have made it easier than ever to capture footage from unique vantage points, giving viewers a bird's eye view of your event. 
Drones can also highlight points of interest about your event location. For instance, if your event is held in a big city or an exotic overseas destination, using a drone to capture footage of the surrounding area can showcase the unique atmosphere of your event.
Not only do drone shots add visual interest to your event video, but they can also help to tell a more complete story of your event. By providing a unique perspective and highlighting key details, drone footage can help to create a compelling and immersive viewing experience for your audience.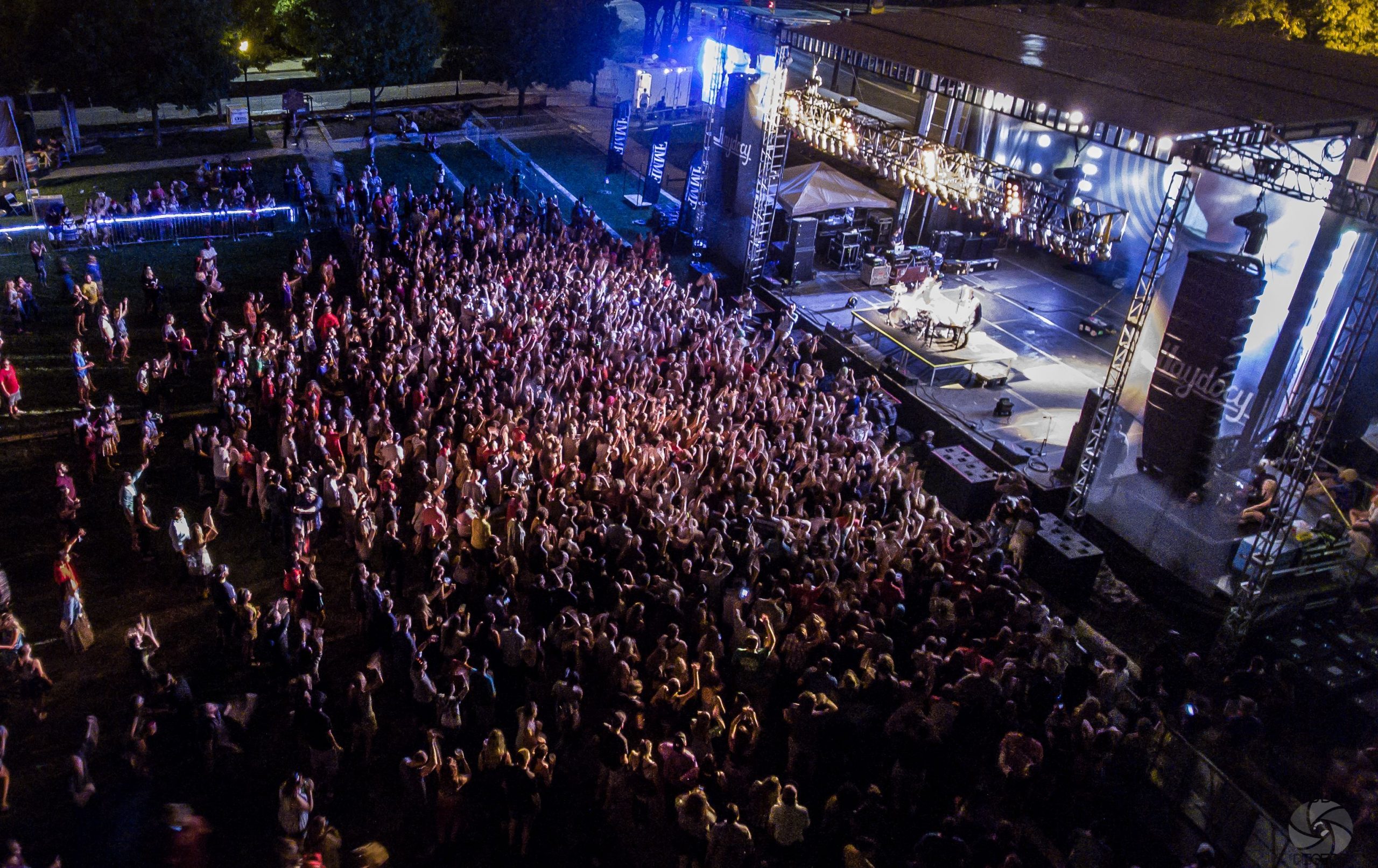 7. Add Some Drama
Macro shots, also known as extreme close-ups, are a powerful tool in event videography. With advancements in camera technology, capturing hyper-detailed close-ups has become easier than ever before. 
These types of shots can add a dramatic effect to any event video, and one great example is capturing the picture of a wedding ring. By getting an ultra close-up of the ring, the video can emphasize the symbolic importance of the moment and showcase the intricate details of the ring design. This type of shot can also be used for other objects such as intricate decor, special props, or unique food and drink presentations. 
With Studio52's experienced videographers and state-of-the-art equipment, we can capture these important details and make your event video truly memorable.
8. Show Your Enablers
Stills of vendor products, swag bags, and event decor are essential. This type of shot showcases the ambiance and the atmosphere at your event and can set the scene for potential attendees. It's also an effective way to give viewers an idea of what kind of merchandise or freebies they can expect by attending the event.

Also Read: How to Make an Event Highlight Video
Conclusion
Capturing the right shots is crucial to creating a compelling event video that attracts attendees. By following the eight recommended shots, you can create a visually engaging video that captures the emotions and experiences of your event.
Need a professional team to assist you? Get in touch today!