In today's business landscape, there's an electrifying tool that savvy companies are using to captivate viewers like never before – eye-catching corporate videos. 
Read along to explore the pulsating universe of corporate videos. Let's uncover the perfect video strategy that will set your brand's story in motion — comprising one or more types of corporate videos discussed in this blog.
Explainers
If you're thinking of an instructional guide, you're certainly headed in the right direction. But there's more to the captivating world of explainer videos than meets the eye. Think of them as compact nuggets of brilliance that can showcase not only the how-tos of your business for your customers but also your splendid products and groundbreaking business concepts.
While strategizing a script to capture your audience's attention, remember that mere information isn't enough. Set your creativity free and embark on a journey of experimentation. From the allure of live-action explainers to the enchantment of animated wonders, explore a medley of formats that will leave your viewers spellbound.
Brand Videos
A brand video shows your company's array of services in an engaging way. Here, the aim is to keep the audience "in focus" and get them to fall in love with what you do and represent. The focus is to build a strong foundation of trust, all within the smallest time frame possible.
Crafting a brand video may sound taunting, but considering the appeal of this media format, it's a journey that promises a deeper insight into the desires of your audience.
Company Culture Videos
Foster a genuine connection with your clients by revealing the people and values at the core of your brand. An effective way to establish this meaningful link is through a company culture video – a window into the very centre of your organisation. This type of video offers an opportunity to showcase a harmonious workplace and your team's dedication, leaving a lasting impression on the perception of your target audience .
And it's pretty straightforward. All you need to do is gather employee testimonials, virtually explore amusing office anecdotes, or employ any other whimsical creative approach you can imagine. Collaborate with your production team to brainstorm and craft a company culture video that reflects your brand's uniqueness.
Testimonials
Utilise your positive client reviews to showcase your achievements! Testimonials can serve as a distinct storyline or a pleasant enhancement to your brand's narrative. When creating a testimonial video, you have the freedom to shape it according to your goals and aspirations, but it's always the best when it comes from an outside party. 
Visualise your clients taking centre stage, expressing their experiences, and praising your services and experience on camera. Alternatively, you can explore animation, using written praises from satisfied clients to create a visual representation. The design of this representation is in your hands, and your creative options are limitless.
Webinars
This could be your easiest conquest among various options, especially if you opt for a teleconferencing setup. Hosting and recording a webinar or conference becomes your stage to deliver an insightful discourse, fostering a two-way dialogue that captivates your audience. It's a channel to forge robust links with potential patrons, fortify bonds with loyal clients, and etch your brand's identity deeper into the overall, industry-wide recognition.
Corporate Events Video
From the hallowed halls of boardroom discussions to the spirited camaraderie of team-building escapades and the glitz of accolade-filled ceremonies – the canvas is yours to paint. Your choice, your narrative. 
Do you aim to unfurl the banner of a new product launch for your clients' eyes or bask in the spotlight as you honour the stellar contributions of your devoted team members? Chart your course with purpose, pondering the profound impact each type of video can have on your business's voyage. Tailor the format to your aspirations, ensuring a perfect fit like a bespoke suit.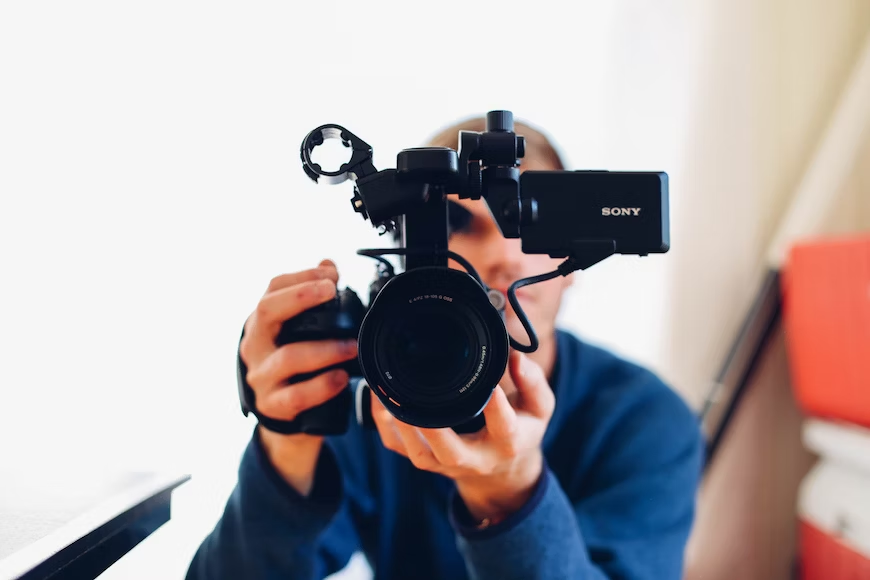 Social Media Video
Have you ever thought about how social media can be your ticket to connecting with customers and boosting your brand? You don't need to be a film pro or dedicate hours to shooting social media videos. Crafting a snappy piece yourself takes just a few minutes.
Remember, your video archives hold untapped potential. Get creative with various social media tools to add that extra oomph to your content.
Finally, shorter is often sweeter. In the dynamic realm of social media, brevity hits the mark. So, roll up your sleeves, make the most of social media, and let your brand's voice resonate across the digital landscape!
FAQ Video
Have you ever considered breaking away from the ordinary FAQ section on most websites? Well, here's an intriguing thought. Whether a FAQ video fits the bill for your business depends on the nature of your online offerings. For instance, if your products require assembly – think furniture – a handy "how-to" video could be a game-changer on your FAQ page. Sometimes, visuals trump lengthy written instructions, enhancing the customer experience.
If you're up for the challenge, let's talk format. Picture this: a living, breathing person engaging with your customers on camera. Alternatively, you could explore the magic of animation. The choice is yours, and your FAQ video might be the delightful twist that sets your customer support apart!
Recruitment Video
Have you ever thought about luring top talents to your doorstep? Here's where the recruitment video swoops in. Its mission? Weave a magnetic narrative that beckons potential job seekers to your realm, igniting the spark to apply for open roles. Think of it as a blend of company culture, brand essence, and a sprinkle of testimonials. It's your canvas to paint.
With a recruitment video, you're on a quest to present your organisation's finest facets and forge a connection that resonates with future team members. The best of your brand is encapsulated in a visual delight that transcends mere words.
Training Videos
Looking to fortify the bonds within your company? Look no further. This gem is tailor-made for your internal communication needs. Whether it's grooming fresh recruits or nurturing the skills of your seasoned team members, this versatile tool has your back. It's like a personalised training hub, accessible to both new faces and seasoned pros.
Much like the versatility of "how-to" and "FAQ videos," here's another canvas for you to explore — live-action video or the captivating allure of animated videos. Test the waters and uncover what resonates best with your crew. Training videos are the most critical key to workplace safety, too! Just ask us — or rather any of our animated safety video clients! 
Seasonal Videos
Yearning to kindle a festive glow within your company's walls? Or you can extend heartfelt gratitude to your invaluable employees, esteemed vendors, or cherished clients. Look no further – the holiday greeting video is your delightful answer.
And here's the twist – it's not just a video; it's a gift, a gesture of gratitude to those who play a role in your journey. Beyond the festivities, it's a subtle whisper that your brand is a beacon, a choice that's cherished and celebrated.
So, embark on this heartwarming venture, spread joy, and let your holiday video bridge your company, employees, vendors, and clients together in a tapestry of shared moments.
Fundraising Videos
If you're a non-profit championing vital issues, this one's your ally – weaving a tapestry of awareness and rallying hearts to embrace change. It's a narrative that tugs at heartstrings, an invocation to stand up and be counted.
Here's the secret sauce: a potent narrative. Stirring emotions and invoking responses become the soul of your creation. And oh, the format? It's your ally in crafting mood. Set the stage, design the ambience, and let your audience take an immersive plunge.
With so much in the mix, consider summoning the prowess of a production company. Their expertise can mould your message into a captivating masterpiece. Alternatively, roll up your sleeves and delve into scripting, curating the finest assets to fuel your advocacy and fundraising campaign.
Conclusion
Over the years, numerous enterprises have joined forces with Studio-52 to create top-notch animated safety videos and dynamic video content that seamlessly aligns with prevailing industry currents. Powered by a brigade of adept in-house animators and developers, Studio-52 remains resolute in crafting animations that mirror the cutting-edge strides of the sector.
With the prowess of our corporate video production company, every video emerges as a bespoke masterpiece, meticulously designed to match the unique requisites and aspirations of each client. The result? A mesmerising fusion of messaging and visuals that weaves a captivating narrative for viewers.
Ready to embark on this journey? Reach out to us today and let's bring your vision to life!