There's no denying that live streaming is only getting bigger. Event videography are excellent at holding viewers' attention longer, keep them more engaged, influence their purchasing behaviors, and connect with brands on an emotional level. 
According to the reports, video streaming is expected to reach $100 billion by 2025. Today, there is no limit to the type of live event you can stream. Brands and individuals are using live video streaming to show a variety of content such as sports events, reality TV, concerts, game shows, behind-the-scenes, and even church services.
Today, live streaming is at the same stage of evolution at which social networking sites were some years ago. Brands were still not clear with the objectives of having their presence on YouTube, Facebook, or Twitter. It's the same with live streaming today. A lot of brands are aware of something called live videos but, how it's going to be useful or how to use it effectively is still being explored. 
The Growth of Live Streaming
With advancements in video delivery technologies and innovations in artificial intelligence (AI), live streaming is expected to grow further in the coming years. Without numbers, it's difficult to work out exactly how big live streaming is and whether or not you should invest your time and money in it. So, we dug into the numbers to get the whole picture for you. Here's a look at the statistics shaping the future of live streaming:
With time viewers would want a personalized user experience and greater control over their live streaming experiences such as slow-motion replays or the ability to switch between camera angles. 
So, now we know how big live stream already is and how it's going to grow with time. Let's talk about the impact it has on viewers.
Impact of Live Streaming on Audiences
Live streaming is quickly becoming an increasingly popular way for brands to connect with their audiences. From product launches to exclusive events, you can see brands interacting directly with their customers. Let's dig a little deeper to find out what are the impacts of live streaming on audiences.
It's all about connection- People love to forge a personal connection with the brand they admire and care for. Live video streaming gives them an opportunity to interact with the people behind the brand. A live broadcast led by real people feels more intimate than a pre-recorded video. The possibility of a chance to ask questions directly to the leader or the thrill of participating in exclusive product demonstrations is much more valuable to a consumer than a social media post. The personal connection feels more intimate, which is one of the reasons live video has grown so much so quickly.
It provides a life-like experience- Everything happens in real-time during a live stream. It's a unique experience that gives you the same feeling that you would have when you are at the location in real life. Viewers can interact, ask questions, and give instant feedback, which is excellent for not just the viewer but also for the brands. It gives the brands a chance to understand their audience much better.
It's more accessible- Accessibility is another major factor that has helped live streaming rise above others. Consumers can watch live streams from anywhere in the world. This helps a brand sitting in the US connect easily to consumers from all over the world, thus building a larger consumer base.
It makes your brand more human- Consumers today are very different from what they were some decades ago. They want to get to know a brand, and some of them are emotionally invested in a brand so much so that it would break them to know that they don't support a cause or didn't come forward to help. Live streaming gives you the opportunity to show them your values.
It's an efficient marketing tool- Nowadays, live streaming is included in most marketing strategies. As the videos look more real-time it makes marketing look more human rather than promotion. This makes it easier for the consumers to believe in the brand.
Wrapping Up!
With advances in technology, live video streaming would continue to grow. It has a powerful impact on viewers at every stage of the funnel. Working with influencers and an experienced camera team you can easily expand your reach. As people used to look forward to attending an event in person, people are now learning to enjoy that same event from the comfort of their homes.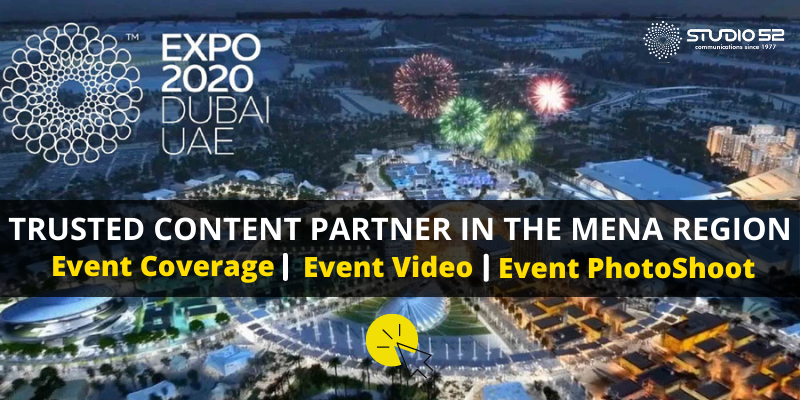 Live streaming is already here, whether you like it or not! So, if you are looking to take advantage of this rapidly growing industry, offering an outstanding live video streaming experience to your subscribers is a must. And, to offer the best viewing experience you need a reliable live video streaming partner for your business. We at Studio52 can help you. Get in touch with us so we can help you set up quickly for your next live streaming!
Get a free consultation – Top Rated Video Production House Dubai…