How are things made?
Back in our childhood years, we've all been fascinated by how things around us are made. We wonder how the simplest of objects to skyscrapers are planned and conceptualized, and are finally completed. Regular visits to these development areas would take so much time of our schedule. Progress and productivity are essential keys for a balanced work. Thankfully, through the advancement of technology, we have developed innovations that could do the job for us without compromising our productivity.
The Time Lapse Camera
In our modern generation, cameras are now advancing to their specific functions. While some are built to withstand existing weather conditions and harsh environments, there are those that can withstand with time. The use of time lapse has been dated since the early 1900's. It was then used for photography. Further developments have transformed the element of time lapse to videography which is widely used nowadays.
Various construction companies are into monitoring their progress through these time lapse videos. By taking into consideration the amount of time they need to spend with site visits, these time lapse footage save a lot of effort from their end. Also, reviewing the quality of work and the pace of their progress becomes much easier. Since everything is well documented, companies can easily pin point the strategies they can use to improve the quality of their work while performing at speed.
It is much wiser for these companies to hire experts in the industry for these documentations to ensure quality videos and on time delivery of outputs. Studio 52 has developed special cameras designed to withstand all kinds of weather conditions and situations. The cameras are solar powered so you wouldn't need to worry about power loss or any other kind of cabling or WiFi connections. Regardless of the duration of your project, Studio 52's cameras can cover it all for you from start to finish!
Also Read- Best Timelapse Cameras for Construction Sites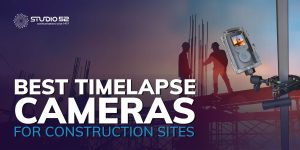 Mandatory Monitoring: New government rule in Dubai
Back in 2011 alone, there have been estimated 25,000 CCTV cameras all across Dubai. This time, the number might have doubled. Multi Story buildings are required to have internal and external cameras for monitoring their construction as per the new rule which was imposed last March 2016. This rule also aims to aid in public health by ensuring a safe work area, as well as maintaining the visual appearance of the city.
Dubai is a city that never ceases to build and construct. For the next few years, more high-rise establishments would be towering the skies. More bizarre structures would be built paving a way for the city of Dubai's vision to become the most advanced city in the world. And because of this new rule, it's now possible to witness these amazing structures be built from the beginning until its completion. We could even see a much more detailed progress of these projects as the cameras designed for time lapse would keep advancing too. The possibilities are endless!
Studio 52 Time Lapse Video
Many cameras have been developed for very specific functions such as taking stills, action scenes, 360 degree view, underwater footages, etc. Construction Time Lapse Video is a specialty of Studio 52. They provide HD quality videos which gives you a very detailed perspective of your project. Each camera is specifically designed to last, no matter how long your projects would take. Just leave the documentation to Studio 52 and it would be delivered precisely on time.
Among the long list of Time Lapse videos made by Studio 52 are constructions of Sea Port, Refinery and Power Plant, Civil, Maritime, Infrastructure, and Oil and Gas. They also provide daily updates from the site, real time photos, weather updates, and instant status alerts which will keep you on track of your projects. Now you have everything you need in one trusted name. Studio 52's advanced solutions for Time Lapse Videos has got you covered.