Timelapse cameras are gradually becoming the norm on construction sites. Over the years, it has become common for contractors and developers to use construction timelapse cameras to communicate the progress of their projects. Urban development is not left out either.  It is captured in such a nice way basically for promotional purposes. Aside from promotional purposes, there are a variety of other reasons why site contractors rely on time-lapse cameras, and they are well covered in this article.
What is a construction timelapse video
Whether you like it or not, still captures are difficult to use to illustrate job progress. It may appear to be the normal and correct thing to do, but for appropriate construction progress capturing, you would always choose timelapse capture.
Timelapse captures are images taken at regular intervals, such as weekly, monthly, bimonthly, or even annually. By combining these captured images, you can comfortably create a video of a work's progress. When the camera quality is good, the result looks even better because it details all of the impressive work done on-site.
Your industrial processes would be documented in a nice yet professional manner with a decent timelapse camera but certainly not without a competent hand!
Why TimeLapse Cameras Make Sense for Construction
After becoming popular in the 1990s, timelapse cameras were later used on construction sites. The delay in their introduction on building sites was caused by the logistics problems of those cameras at the time, not by their demand. The logistical challenges have been overcome by the improved designs of timelapse cameras, as well as their quality.
Timelapse cameras used on construction sites operate in a somewhat different manner than conventional timelapse cameras. These cameras take photos at a decreased frame rate, which could range from one frame per day to three frames per second so that the protracted period of construction appears to be shortened. The quick but smooth transition of images obtained is employed for a variety of reasons, as you will discover as you read on. 
Furthermore, construction timelapse cameras are IP67 rated, which means they are tough enough to survive extreme weather conditions as they are typically kept out in the open for months. This means that, while other cameras can be used for timelapse capture in building sites, they are more likely to get damaged or malfunction due to the conditions they are subjected to.
The following are the reasons why timelapse captures are all you need on a construction site, whether you're a supervisor or just a lead engineer.
It is critical to provide stakeholder updates
Stakeholders function similarly to project managers. They have specific duties to play in the success of a project, thus the facts of the work progress must be clearly and succinctly communicated to them. However, most of the time, this can be difficult.
Naturally, you may consider long written reports, which could be pretty valuable, but you will still fall far short of having all details documented. When observed rather than read, information can be better described. In addition, given the current state of information transmission, a timelapse clip may be your only option for merging months of work into a single video containing significant information that can be understood by everybody.
The video detailing might be improved by inserting 3D models to help visualize the project's future. This allows the stakeholders to view and comprehend the project's progress and prospects without having to physically visit the site. Lead engineers frequently rewatch timelapse footage to identify flaws and inefficiencies in construction. This evaluation procedure guarantees that work is completed neatly and follows recognized processes.
Helps in marketing and promotion
The benefits of construction timelapse cameras to marketing and company promotion are possibly the most significant of all. Marketing must be properly integrated into any company, even construction enterprises, for any growth to be seen in a company, particularly in today's world. 
Prospective clients must be made aware of your company's accomplishments and efficiency. They must come to learn about the company's existence, especially considering the competitive nature of the booming housing building business in Saudi Arabia and throughout the world.
When done correctly, generating a unique timelapse film readily conveys to viewers the image of the company that has to be sent to them. They are given information on how each project handled by the firm grew from the ground up to completion. The audience has the convenience of watching as the company's huge initiatives progress from start to completion, much like a detailed story. Certain firms, such as Studio 52, does better by ensuring that progress report videoed professionally is exported to a relevant type suited for sharing for various purposes, such as internal communication within the company or social media.
It aids in proposal pitching
The full information provided by video playback is a tremendous bonus. Contractors can take advantage of this capability while bidding on projects. Good video playback is quite important in this. A good capture reveals the narrative of your work and the time and effort you put into it. Simply said, it ensures that your proposal stands out among competitors in a distinctive way.
A more engaging yet official presentation is feasible when you back up your pitch with video playback rather than depending on spoken proposals. Additionally, written proposals are ineffective when compared to a visual approach. 
It provides a comprehensive description of the work
During the construction process, the importance of having a clear overview of a project cannot be overstated. This information is required by site managers and lead engineers throughout the construction process. And, in most cases, written and spoken information cannot compete with visual display.
Visually monitoring a project's development provides for project tracking. It keeps management up to date on the status of the project and lets them know when it will be completed. This project's future prediction guarantees that managers introduce task orders that ensure the project aligns with defined objectives. Managers can stay on top of activities at a project site even when working away. 
Comprehensive project documentation
Project documentation is arguably the most critical advantage of construction timelapse cameras. A review of work is available by recording the process of work done on the site. This review option ensures that insurance is adequately assured in the case of a hazard. Evidence of insurance claims and tracking of erosion might be difficult to get without a type of record that can be easily provided by a timelapse camera, even with a lengthy and detailed written report.
Documenting project processes might also serve investment purposes. A specific process may be visited easily by retrieving from an archive, reviewing from the relevant era, and presenting the work process to investors and the likes at the appropriate speed.
Aids in the settling of disputes
Disputes are generally disliked, although they do occur. And one of the greatest ways to overcome them is to obtain good job records. Issues involving fraud, and internal and exterior extrusion can be effectively rectified if carefully recorded. The visual documentation of current work also protects the company from any illegitimate claims, as such safeguarding its funds and prestige.
Ensures ongoing improvement and overall growth
Each project of a company has an impact on its growth and development. If the initiative is successful, the company's reputation will undoubtedly improve. The opposite would be true if the company failed in the project it is in charge of. Given that, if there is to be development, the strategies needed to improve all of the processes in the plant must be worked on, and this is better done if the work done on-site is assessed. And, without a mechanism to properly document the workings on-site, supervisors' analysis and strategy creation would be difficult.
Aside from productivity, the surveillance of occurrences on-site via timelapse cameras ensures that necessary safety precautions are followed. Obviously, if a hazard happens, which could be the result of insufficient attention to safety measures, the company suffers and the setback could be significant, necessitating the need for surveillance. The presence of a camera also ensures that accidents are reviewed afterward and those possible adjustments to work are made. As a result, enhancements such as selecting a more efficient distribution site can be made, which can help to reduce handling and hence prevent dangers.
Also Read – Best Construction Timelapse Cameras 2022 Edition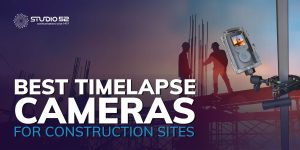 Bottom Line
Without industrial photography, the story behind your excellent work on-site cannot be adequately captured and presented to investors and the general public. Industrial photography guarantees that procedures are documented and recorded.
You wouldn't trust just any camera on a building site to capture the progress of the work: you'd need a good timelapse camera for that. Calling a qualified professional photography outfit like Studio 52 will also guarantee that intricate works are properly recorded. Choosing any photographic company is a bad idea because not all of them put their claims to work. Studio 52 can provide the necessary professional recording to your specifications. You'll need a company like it with well-defined techniques for construction timelapse photography.