If your company is organizing an event, it is advisable to hire a professional player for the coverage of your event. This applies even if you are participating in conference, trade-show, or exhibition as well. Because the photography will be used for press releases, presentations, PR promotions, social media promotions and will also be featured on your website. In other words, it will represent your brand to your customers, target audience and stakeholders. Professional players understand such dynamics. They understand that event photography is not just about capturing the photos of your event, but capturing the essence of your brand. However, you must be careful while selecting your event coverage partner. They should be able to understand your brand and have a repertoire of experience to meet your expectations. Here are 6 tips that will help you in selecting right corporate event photographer.
Experience
Experienced corporate event photography company can make a real difference to your event coverage. They have clear understanding of what can make event photography standout, which moments to capture, which angels are best and how to tackle challenges.
Resources & Team
Is the company you are going to hire equipped with latest cameras and equipments to meet your expectations? Do they have a competent team to take care of all your needs? Only if you are satisfied with their resources and capabilities should you work with them.
Previous Work
Work portfolio of a company speaks volumes of their talent and expertise. It's a handy and easiest way to find out what kind of results you can expect from the company you are going to hire. So check their previous work and see if they would be able to cater to your needs.
Style
Every photographer has a unique style. They may have a range of skills to portray your brand's image in harmony with its personality, but their niche expertise is what they are unbeatable at. So find out whether the style of photography they have command over is the one you are looking for.
Professionalism
Professional attitude is central to the idea of team work. No matter how good your event coverage partner is at their work, if they are unable to deliver work with standards of professionalism, you will end up regretting your choice.
Long-term commitment
Of course, you wouldn't want to go through the process of looking for your event coverage partner every time you are organizing an event. So, better work with a company that offers the prospect of long-term commitment.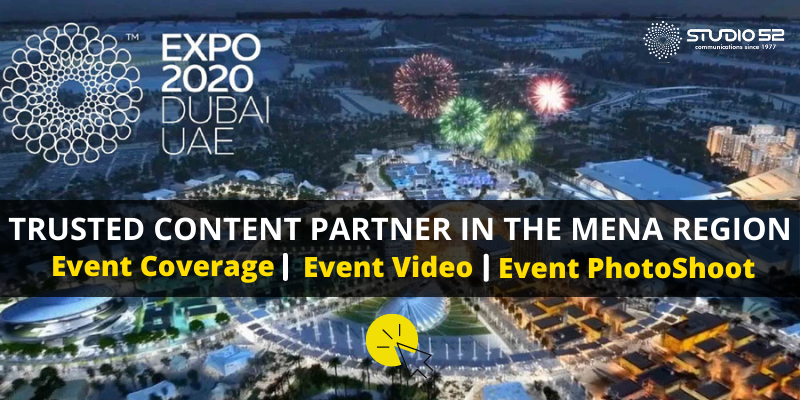 If you are looking for professionals to do event photography for any of your upcoming event, anywhere across the Middle East, Studio 52 can provide you end-to-end professional services. We have experience of covering events for many leading companies. Our expert team can take care of all your needs such that you can rest assured without worrying about anything.