For any business, conferences are very important events that go a long way in adding to your brand equity. In today's digital age, where live streaming and creating stellar videos have become the order of the day, hiring a professional team for video production service is recommended. Only professionals equipped with expertise and the latest technology can ensure you receive a stellar video.
If you are planning to participate in any kind of conference or event in Dubai, like the upcoming Dubai Expo 2020, you will want to have images and videos highlighting your time at the event. We live in a century where, as a brand, you need to connect with your audience on a regular basis to keep them hooked. This means you need to keep posting short promo videos or photos from your conference on social media so your audience knows what you are up to. Posting just any video would not be sufficient, you need good videos and photos to entice them or you could also use live streaming.
You would find many video production services in Dubai but choosing the best can be hard as a lot depends on your budget. However, you should never compromise quality over price. Good quality videos can help you grow your business and stand out from your competition.
As one of the top video production agencies in Dubai, we always try to provide the best quality video at affordable rates. Over the last 40+ years, we have built a strong team that can provide you with whatever you need. So, whether you want just one videographer or a whole crew to cover the event with multiple cameras and live streaming, we are here to help.
Here's an example of the conference video we covered for NPCC at the 6th Annual International Pipeline & Coating Conference in 2019. 
Here's another event coverage for NPCC – their Signing Ceremony, an important milestone in their path to success.
We have covered thousands of big, small, and medium events like these in Dubai, so if you need videos for your event, you can always contact us. We offer an end-to-end event video production service. From pre-production to multi-camera operations and post-production, we will make sure your event looks spectacular. 
Dubai Expo 2020: What Studio52 Can Do for You?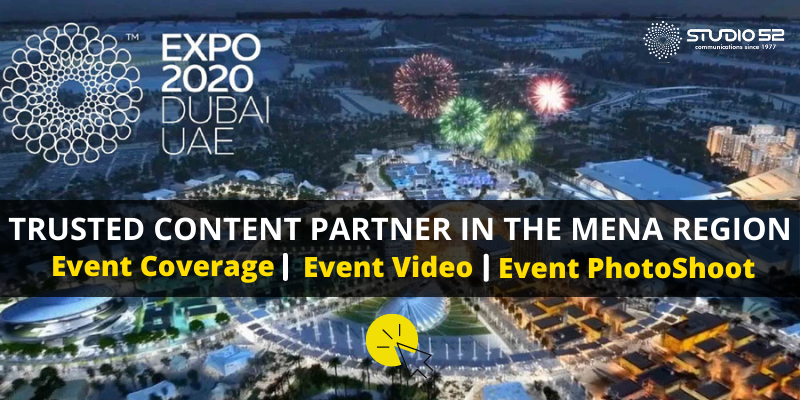 An enormous global event like Dubai Expo 2020, which comes only in five years, is an excellent opportunity for any business to document its historic moments during the time. A corporate video featuring these moments could be a fantastic marketing tool for both recruitment and business promotion. 
Filming a conference or an event is much more than just recording a podium. Being a 6-month long event, there would be plenty of things for you to document. Share the buzz of the day. Share snippets from speeches, share event highlights, or share the video of an award your company received. To keep the interest alive during the entire event, you need to produce different types of videos and we can help you do just that by creating content that connects with your audience. Our team will advise you on the best formats and length, and help you optimize your event video for SEO too.
If you need a quality video production service in Dubai, it's easy to start with our team. We are one of the best video production services in Dubai and the MENA region but don't just take our word for it. Browse through our website for more information about our work process, testimonials, and the breadth of services we offer. Or, get in touch with us and we will be happy to show you what we can do for you to get the best results for your event at Dubai Expo 2020.
Let us help you with a fully professional experience right away!