A few decades ago businesses and consumers had a very different relationship than they have now. While customers still care about the price and quality of products, customer service is the new deciding factor when it comes to choosing products or services from competing brands. And, telephone on-hold message (THM) forms an integral part of the customer calling experience. It is through this channel that customers are going to interact with your business after the initial purchase.
Crafting an on-hold message strategy might not seem as trendy or flashy as digital marketing, but providing an exceptional customer-calling experience still matters. Failing to deliver a positive customer-calling experience is like building the bridge and leaving it unfinished midway. 
Let's see how on-hold messages play a critical role in providing a positive customer-calling experience.
No matter how much you try to avoid, putting callers on hold is a part of any business. This is because it is humanly impossible for the customer service staff to deal with all the calls simultaneously. It's exactly what the stats tell us – an estimated 70% of business callers are put on hold. Before delving into tips on how to create your on-hold messages that your caller would love, it's important to understand the importance of these messages for your brand. 
Here's a look at some of the interesting findings on customer calling experience from various sources:
More than 50% of customers across all age groups typically use the phone to reach out to a service team, making it the most-used channel for customer service. (HubSpot)

33% of customers are most frustrated by having to wait on hold. 33% are most frustrated by having to repeat themselves to multiple support reps. (HubSpot)

In a similar study, nearly 60% of customers feel that long holds and wait times are the most frustrating parts of a service experience. (HubSpot)

Nearly 70% of customers are irritated when their call is transferred from department to department. (HubSpot)

89% of companies with "significantly above average" customer experiences perform better financially than their competitors. (HubSpot)

60% of the callers placed on hold hang up, and 30% of those that hang up never call back. (AT&T Study)

Callers with silence on hold will abandon their calls in less than one minute. Callers with information on hold will stay on the line for up to three minutes longer. (North American Telecom)

Over 85% of callers prefer on-hold messages over silence. (Cellular Marketing Magazine)

Based on the information they heard while on hold, 16-20% of callers made a purchasing decision. (Teleconnect Magazine Report)

77% of customers would recommend a brand to a friend after having a single positive experience. (Temkin Group)

Almost 90% of customers said they stopped doing business with a company after a poor customer service experience. (RightNow Customer Experience Impact Report)
These surprising numbers show the impact of professional and creative on hold messages on how callers perceive and react to the time they spend waiting. It's important to note that callers are willing to wait 3 minutes longer when given information on hold.
Now that you're aware of the importance of on-hold messages, it's time to craft that perfect on-hold message for your callers. Let's get started!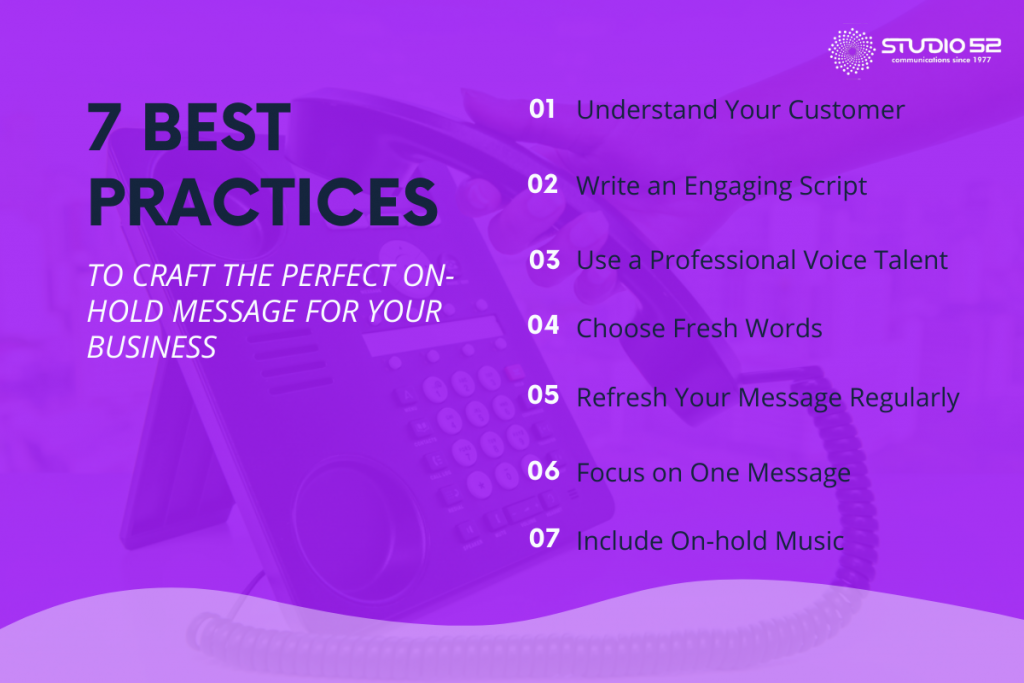 Understand Your Customer
The first step to crafting the most effective on-hold message is to understand your customer base. Once you know who they are, what they want, whether they are male or female or a good mix of both, and what language they speak, it would be easier for you to select the right voice-over artist for the job.
With the answers you get you are going to build a caller profile that should include important information like the average age of the caller, how long do they stay on hold, and a list of the most frequently asked questions.
Write an Engaging Script
This goes without saying, right? You'd be surprised, though, how many businesses wait until the last minute to update their on-hold message and try to throw something together in a rush. A good script offers an invaluable connection between the callers and your business. 
For your script you always need to keep the callers in mind, this message is for them. You need to know who is most likely to call your business and what's the best way to approach them. This process is best achieved through the collaboration of your marketing team and customer service representatives.
Use a Professional Voice Talent
A truly successful on-hold message will help shape your company's branding. It may just contain a few words, but a carefully crafted and impactful message will improve customer satisfaction and retention.
Imagine how your brand would sound if it could talk and try to personify it the best that you can. It's the kind of voice that your targeted callers can greatly relate with, a voice that they have no problem listening to. If you need help with voice-over artist or on-hold message, it's the right time to reach out to a dedicated Telephone on-hold message (THM) service provider. These experts understand the art behind on-hold and they can help you pick the right voice talents for your unique brand and the experience you're trying to create.
Choose Fresh Words
"Your call is very important to us. Please hold while our operators assist other customers" – sounds familiar, isn't it? The word "hold" already has a lot of negativity attached to it. Most customers frown or groan upon hearing it. But, it goes without saying that you have to put your customer on hold when the call volume is high. So, the best way to address this on-hold situation is to choose fresh words while crafting your on-hold message. For example, see the following lines:
"Bear with me for a moment while our system validates your information."
"Give me a moment while I update that for you!"
A fresh choice of words would have a positive effect on your caller when chosen carefully.
Refresh Your Message Regularly
Your business evolves and changes over time, so the same should be true for your telephone on-hold messages. By regularly renewing your greetings and on-hold messages, you'll manage to hold the attention of your most loyal customers. However, this doesn't mean you need to refresh your on-hold message every week or month. We suggest updating your messaging at least every quarter or whenever the offers and specials you have been promoting expires.
Imagine how bad the impact would be when the customer on hold hears an enticing offer and makes a plan to use that offer after the call is over. It would be highly unpleasant and they might also end up thinking that you are a brand that says but doesn't deliver. So, make sure that your on-hold message is still relevant.
Focus on One Message
When you have the caller's attention you might try to give them all the information at once. But, that's not going to help. Your callers are there to seek solutions to their problems, not to listen to long messages with lots of information. Provide bits of information that they can easily absorb. You can have different scripts, but within each script try to stick to one message.
Since your callers are looking for quick solutions to their problems, make sure that the information you provide is easy to remember. Your on-hold message should be short and catchy. 
Include On-hold Music
Studies have shown that 70% of consumers find that music improves a company's branding. And that's all, from the statistics given above, it is clear that callers prefer on-hold messages or information over silence. It has also been found that callers with music on hold will stay on the line thirty seconds longer than with silence. So, a combination of on-hold message and music is a perfect combination to create a more pleasant on-hold experience.
A caller with a complaint will get frustrated if put on hold; silence will only aggravate that feeling. On the other hand, a melodic tune might calm your customers, making them more rational and open to solutions provided by your agents.
Also Read: Importance of Audio production in marketing strategy!
Final Thoughts…
Telephone on-hold messages can transform the way your customers experience being put on hold. You can utilize on-hold messages in a variety of ways to get engagement from your callers and to ensure they feel in control. All you need is the right script, the right voice, and habitual updates dashed with a little bit of creativity.
If you don't have a telephone on-hold message strategy yet or haven't updated in a long time, now is a great time to refresh the message. Contact Studio52, one of the leading THM service providers in Dubai, and discover how our creative team of producers and voice-over artists can help your business today. You can also browse through our gallery to know more about our past work experiences.